SHANE WAS ADOPTED FEBRUARY 14, 2003!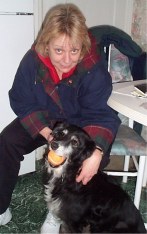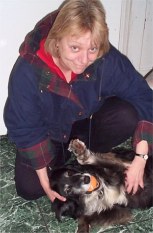 SHANE'S STORY: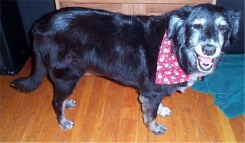 Shane before her makeover (left) and after a day at the beauty spa (above).
When we first saw Shane at the shelter, she was extremely depressed and withdrawn. We found out Shane had been surrendered because her owners moved where pets are not allowed but they came to visit her every day. No wonder Shane was depressed. Surely they meant well but every day she would wait for them only to have them leave her again. We later found out they had done the same thing while boarding her at their vet's office for a month before bringing her to the shelter. The poor dog was very confused. But now in a foster home, Shane realizes she no longer has anything to be depressed about. She is an incredibly sweet dog with lots of spunk and personality. She begs belly rubs from everyone she meets. People are always surprised that when they reach down to pet her, they find she has rolled belly up by the time they get close enough. Shane has excellent manners. She understands commands and listens well and never gets on the furniture. Shane is 9 years old, but we are not listing her as a senior because that would be very misleading. There is nothing senior about her. She is full of life and spunk and has many good years left. She has had many tests run at the vet's office and her health is excellent. She can jump into an SUV, scale a baby gate and chase down a tennis ball like a youngster. Shane weighs 37 pounds. Shane has been professional groomed compliments of The Dog Patch in Westfield, New Jersey.