IMPALA WAS ADOPTED JANUARY 25, 2003!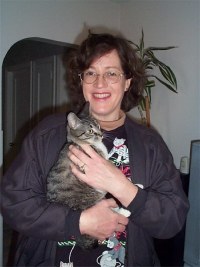 Impala had been adopted on January 4, 2003. On January 21, 2003, her new owner called in tears. She had just come from her doctor's office where it was discovered she had been sick because she is allergic to Impala! (She had the skin test done to be absolutely certain.) She is distraught over having to return Impala and wants prospective adopters to know that "Impala is an absolutely awesome kitten! She needs a couple of days to adjust because she is frightened and hides at first but she warms right up and is wonderful, very friendly, playful and affectionate!"
How Impala originally came into rescue: A young man was at a junk yard working on his car (a Chevy Impala) when Impala came along and started following him around. Even when he went under his car to work, Impala would dive under with him and lay on top of him. The young man took Impala home (yes, she had the honor of riding in his prized car - an honor no other animal had ever experienced) only to have his mother tell him to get rid of the cat now or she was dumping her in the street. So Impala is now safe in a foster home and will never have to live in a junk yard or the streets again. She is about 6 months old and is very sweet, friendly and playful.