CODY WAS ADOPTED JANUARY 25, 2003!
CODY'S STORY: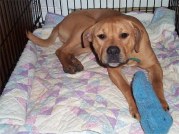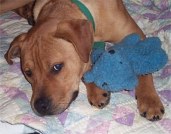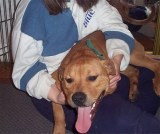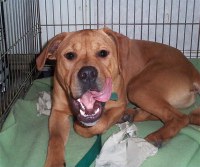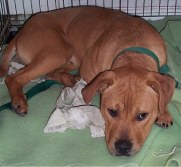 People often assume that because a dog has been abused, the dog will be aggressive. That is, most often, simply not true. Our experience has been that formerly abused dogs are the most grateful and devoted dogs when their lives take a change for the better. They truly know the difference between the bad life and the good life. Cody is such a dog. Neighbors witnessed Cody's owner beating him mercilessly. One day, Cody could take it no more and he scaled a cyclone fence to seek refuge in the neighbor's yard. The neighbor asked a friend who is a vet tech for help and Cody then ended up at the vet's office needing a place to stay. As soon as we had an opening we took Cody into one of our foster homes. Cody is an absolute sweetheart. He gets along very well with other dogs and he does not seem to mind cats. Cody is in a home with 4 other dogs and when the foster mom needs to lay down the law to get whichever wayward dog in line, Cody runs for the security of his crate even when the verbal corrections are not directed at him. It is truly very sad that he thinks he is being a bad boy when he isn't. But he is very responsive to positive verbal praise - he just eats it up! So we have arranged for Cody to attend a verbally positive reinforcement obedience class to boost his self-esteem, compliments of
Town & Country Dog Training Club
in Union, NJ. If you would like to drop in to see Cody in training, please click on the link for directions and come on by. Have a seat and watch the training and then let us know you are there so we can introduce you to Cody!