LINDSEY WAS ADOPTED APRIL 26, 2003!
This was truly an incredible adoption and such luck for Lindsey who so desperately needed to finally experience life in a real home. Just prior to the applicants meeting Lindsey, blood test results came back showing Lindsey has kidney disease. She is not expected to live a long life. Regardless, the applicants still wanted to meet her and decided that they would adopt Lindsey and give her whatever quality time she has left. She not only found her home, she found a home with angels!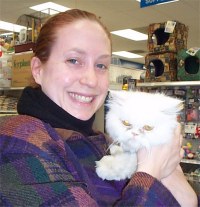 UPDATE May 7, 2003:
Hi, there! Just wanted to give you the latest on how Lindsey is doing. We took her to the vet on Saturday because we notice she was having trouble breathing. Turns out she had developed a nasal infection (which of course Persians are prone to!), so we got her some medicine and she's much better now. We're going back in next week to get her blood checked again to see how her kidneys are doing. She is adjusting well to life in our apartment with our other cats. My big cat Fredo really likes her, and likes to bathe her. She'll go along with that for a while but is always very clear when she'd like him to stop! She and Penny are getting along pretty well, too - it just took a little time.
July 2003 - Lindsey's health failed and she went on to the Rainbow Bridge.
Many, many years ago from a car you were tossed
Out on a busy street, frightened, confused and lost.
An elderly couple witnessed this and came to your rescue.
They brought you to their home, where cats were more than a few.
To prevent reproduction, they kept you in a cart
With fencing on the top, it wasn't very smart.
For eight years you so lived, 'til someone did complain
Then you came into our rescue group and learned to walk again.
Your hair was quite a mess, and had to be shaved away
You felt much better afterwards, and groomed yourself that day.
You went in for spay surgery and to have some teeth removed.
But then we sure did notice; your appetite had not improved.
We had to help you eat, a little bit at a time
Until the test results came back and they were not so fine.
With evidence of kidney failure, the prognosis was so poor.
Would you still find the forever home that we promised you for sure?
Regardless of your illness, some people came to see
Just what a little sprite you were in spite of your history.
It always did amaze us, how sweet and loving you were.
You craved love and affection, and had so much to spare.
This is what they saw, the spirit you possessed
And they did wish to adopt you, as they quickly confessed.
Your poor health did not matter, they were totally committed
To giving you the joy and love for what time it benefited.
You had your first real home, with tender loving care.
They took you to their vet, and still did not despair.
They gave you medication, and fluids to keep you going
But did not want you to suffer, so always they were knowing
That soon the day would come, when they would say good-bye.
That day has now arrived and you told them not to cry
Because their generosity in taking you as their own
Afforded you the life you would have otherwise never known.
LINDSEY'S STORY:
Several years ago an elderly couple was at a restaurant having dinner. They noticed a car stop, the door open and a white Persian being tossed out. The car sped off. The couple ran outside, picked Lindsay up, took her home, and added her to their collection of other rescued cats. This elderly couple really had good intentions and they meant well but they never had any of the cats spayed or neutered. There were never any litters of kittens, however, because their solution to birth control was to keep the cats separated at all times. That meant Lindsey spent YEARS living in a shopping cart with fencing over the top to keep her in. This couple now realizes they are in over their heads and with their health failing, they are no longer able to deal with the many cats in their home so they have agreed to release Lindsey so she may be put up for adoption. Lindsey is terribly matted and will be professionally groomed by Laurie's Love & Care Pet Grooming in Kenilworth, NJ. She will be spayed and have her teeth cleaned on March 26 and will then be available for adoption. Lindsey is snow white with gorgeous yellowish orange eyes. She stumbles when she walks due to her long confinement but with room to roam in her foster home, she should get her muscles back in shape. Lindsey is incredibly sweet and loving. She always comes to her foster mom eagerly and purrs and rubs contentedly. She is so starved for attention and wants nothing more than to live her life as a pampered Persian. She has so much love to give in return. Lindsey is 7-8 years old.
UPDATE: On Lindsey's second day in foster care, she was demanding to be let out of the huge cage she was being kept in to acclimate to her new surroundings. She seemed fine with the free roaming foster cats and they seemed fine with her so she was let out. No more stumbling, in fact, she was JOGGING! She was so happy to be loose that she ran laps around the basement. She then started batting cat toys around like a little kitten and playing with one of the other cats. She was absolutely in her glory! What a happy girl she is now.