JENNA WAS ADOPTED APRIL 17, 2003!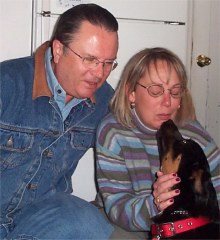 UPDATE April 23, 2003
Jennalea (we changed the name) has turned out to be the most wonderful pet we have ever had. She is obedient, loving and extremely well behaved. We have her on a schedule of feeding & exercise.
JENNA'S STORY:
Jenna is about 3 years old and weighs 31 pounds. She had been found as a stray in January and taken to the shelter. At the time they thought she might be pregnant and indicated this on her cage tag. It must have been a turnoff to potential adopters since after more than 2 months, Jenna was still sitting in the shelter. Obviously, she was not pregnant or she would have been bursting at the seams by now! And that will never be a problem in the future as Jenna will be spayed prior to adoption. On the day we were at the shelter to bring a dog back into foster care, another rescue had taken Jenna's cage mate and she was left all alone. That turned out to be her lucky day, too, because she had just the personality we look for. She is sweet and charming, spunky and playful. She likes other dogs and seems to be fine with cats. And she absolutely loves all people. She has tail wags and kisses for everyone. Jenna favors her left paw and vet determined something happened causing 2 of her nails to be ripped out. It is healed now and she is in no pain. We will be having it x-rayed to be sure there is nothing to be repaired but it just might be that she will always hold that paw in the air sometimes. It's actually quite endearing. Everyone thinks she wants to give paw when they see her holding it up.