TYE WAS ADOPTED APRIL 18, 2003!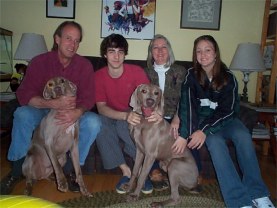 Tye is a 1-year-old (born March 1, 2002) purebred Weimaraner. He was taken to a shelter when his family divorced and moved into housing where pets are not allowed. Tye is somewhat on the submissive side, very friendly and gives lots of kisses. He is house trained, likes to ride in the car and was raised with a child. Tye likes other dogs but is a calmer dog when he is the only dog. His doggie social skills are not the best so he gets excited around other dogs and it tends to annoy the recipient of his attentions. Tye will be neutered prior to adoption.
Because we want Tye to have the opportunity to go to a home quickly, we do not want to wait for a low-cost neuter appointment and will be paying regular price for his neutering to get it done faster. Therefore, we will be asking for an adoption donation of $200 to cover our costs. Please keep in mind that someone originally paid $900 for this dog. The $200 covers his neutering as well as bringing his shots up to date, deworming, flea preventative, microchipping, 2 months of health insurance and heartworm testing.