PRISCILLA WAS ADOPTED OCTOBER 30, 2003!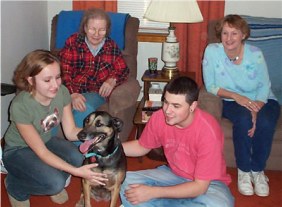 ... at her final, perfect weight, of 55.3 pounds!
Priscilla at 61 pounds:
Priscilla was a 78 pound dog in a 55-60 pound dog body. While in foster care for three months she has lost 20 pounds, now weighing in at 58 pounds. Priscilla had been surrendered to a shelter because her owner had been evicted from his home. The shelter staff said that the man who brought her in cried when he left her. He must have cared a great deal for her but had obviously been too indulgent with food and treats.
Priscilla has graduated from basic obedience class compliments of Town & Country Dog Training Club in Union, NJ. Priscilla is very well behaved and wasn't in need of training, although it's always good for anyone to continue their education. It was good workout for her, she did very well, was very attentive and willing to please and she enjoyed going to class.
Priscilla is 100% reliably housetrained and can easily hold it for 8 hours. At worst, Priscilla will shred a Kleenex or you may catch her sprawled out on your bed (which is not allowed in foster care but she sneaks bed naps at times). If that is not desirable, simply leaving the bedroom door closed would eliminate that. A doggie bed suits her just fine when there is no human bed available. She hasn't been getting on any other furniture. Priscilla loves women and older children but we do see a little difference in her around men - she absolutely ADORES men! She is shameless at our adoption events - will fling herself in front of passers-by, flopping over on her back for a belly rub, while holding them captive by laying on their feet. Her unsuspecting victims have no choice but to comply and rub her belly. Priscilla is what you might call a "guard dog". She barks loudly when someone comes to the door. Those who don't speak doggie talk would take this to mean "WARNING: DANGEROUS INTRUDER ALERT!!!" However, what Priscilla is really saying is "WOO HOO! COMPANY!!!!" It's the only time she barks in her foster home. When residents of the house come home, they are greeted at the door by Priscilla violently wiggling her behind while holding a squeaky toy in her mouth. We do not recommend Priscilla for a home with cats. Although she is not cat aggressive, she has never lived with cats and her kitty social skills are such that we are not comfortable letting her associate with the cats. Priscilla will get along with other dogs but she is used to being the only dog and would prefer to be queen of her castle. Priscilla has nice dinner manners. Before her bowl is put down, she spins in a circle and sits quietly waiting for her bowl to be placed on the floor. Priscilla loves to play fetch with balls and toys but isn't a pest about it. If you aren't in the mood, fine. If you are game, she is game. If you stomp your feet on the floor, she will do the butt in the air play stance, spin in circles and run to be chased. She doesn't need a lot of this kind of activity like a young dog would. (In fact, she couldn't even do these things before she lost all of that weight.) So please don't rule Priscilla out because she is 5 years old - she still has a long time ahead of her and has the maturity to be an effortless companion.
Priscilla posing with her obedience handler in front of her new car. Priscilla received the distinguished honor of being the first dog ever to ride in the car on her way to obedience class!
Priscilla graduates from beginning obedience class!