CHELSEA (now Jessie) WAS ADOPTED APRIL 29, 2003!
UPDATE: February 2004
Jessie's family reports that Jessie is a very good dog who listens well to basic commands. They say that the people who passed on Jessie don't know what they are missing but they are really glad someone else did not take Jessie, otherwise they wouldn't be so lucky to have her themselves! And check out the fancy bed...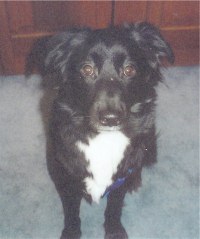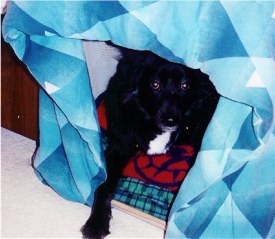 CHELSEA'S STORY:
She's bouncy, she's bubbly, she lopes around like a puppy and she is already about 1 year old! Chelsea is a sweetheart who loves everyone including men, women, kids, other dogs and cats. She can run and play outside like a whirling dirvish but lays at your feet indoors. This poor girl sat in a shelter for almost two months. Nobody had noticed the incredible dog inside of her just waiting to be discovered. But on the day we were at the shelter selecting dogs to bring into our group we saw something in her. Several of the shelter staff members commented on how nice of a dog she is, confirming our observations. So if you are looking for a spunky, affectionate dog, possibly as a playmate for one you already have, please consider Chelsea!