SAMANTHA WAS ADOPTED SEPTEMBER 27, 2003!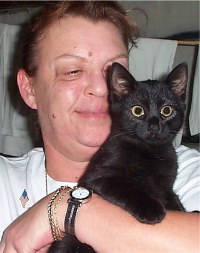 Samantha's Story: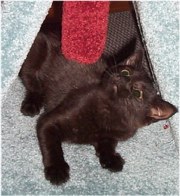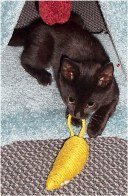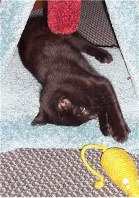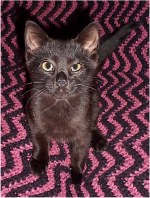 Samantha was born at an oil company where her mom lives as a stray and is cared for by the employees. The employees befriended Samantha and would share their lunch with her in addition to leaving cat food out. The son of the president and co-founder of Companion Critters was working at the oil company for the summer during college break. Every day he would mention how sweet Samantha is and how he would interact with her while on break. And this is how his first solo kitten rescue came to be. Samantha was treated with Advantage for fleas and the next day she was placed in a carrier and brought to her foster home. She was immediately treated to the complete makeover package - nail trim, deworming, bath and ear cleaning. What a difference! She is now soft and fluffy and smells great.
Our intention was to spay Samantha and return her back to the oil company to live since there are already so many homeless cats awaiting adoption in the foster home. But she was just too sweet and we could not bring ourselves to send her back. Her favorite thing to do is to snuggle up in her foster mom's lap and watch television. Samantha had been the only kitten in her litter so she has not grown up in the company of other kittens and is used to being on her own. She would do well as an only cat since she missed out on the socialization stage where kittens learn to get along with each other. But she is well socialized with people so she is a very people-friendly kitten. Samantha is about 12 weeks old.