OTTO WAS ADOPTED NOVEMBER 8, 2003!
Otto settling in at his new home: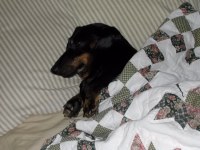 UPDATE 11/26/03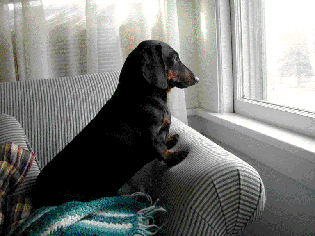 Otto looking out the window - he likes barking at any dog he sees walking by the house. He is doing super with his housebreaking. I'm making a 20 pound turkey for him and Sam, the Golden Retriever, and the three humans! He's a total hit with all my extended family and since Otto loves to play with toys, he should get a bumper crop for Christmas. Thank you for giving Otto to us, he's a wonderful companion.
Otto celebrates Christmas 2003: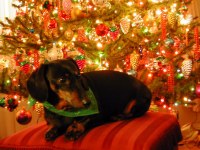 Halloween 2004: Christmas 2004: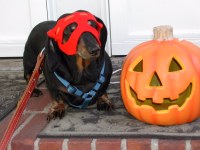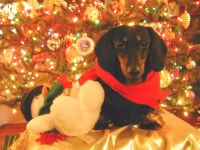 Christmas 2005: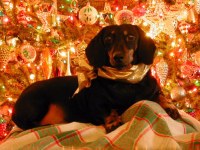 Otto's Story: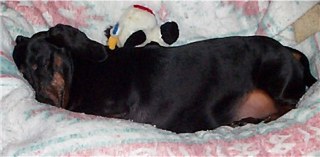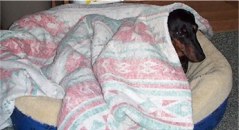 Otto requests that prospective adopters be prepared to provide him with a blanket in his doggie bed so he can tunnel under and cover himself up!
Otto is a victim of divorce. At 8 years of age, his family surrendered him to the shelter along with 2 other dogs. The shelter contacted us with a special request to take Otto since Dachshunds do not do well in shelters. While Otto was at the shelter awaiting a spot to open up in one of our foster homes, the staff kept him behind the counter as much as possible to keep his spirits up. They said he was a terrific dog and they hated to see him go. Otto is very sweet and he wins the first place prize for the best dog we have ever bathed. He was so cooperative, never tried to escape, and even stood perfectly still to have his face washed, something even the best of bath victims hate. At the vet's office, also, he stood stoically for his exam, shots and bloodwork. Otto has had his teeth professionally cleaned. He is in great shape and doesn't look or act like he is 8 years old. Otto gets along great with other dogs but it seems that once he realizes cats mean him no harm, they are fair game to chase and bark at. Otto rides nicely in the car (but he needs a boost up to get in) and loves to go for walks. Otto weighs 20 pounds.