HANNAH WAS ADOPTED DECEMBER 4, 2003!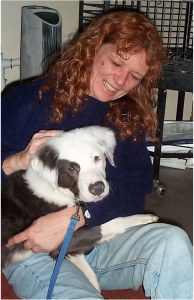 Hannah is a doll! She is so sweet and affectionate even though she must have been through so much in her 5-6 months of life. Hannah had been found tied to a fence (along with her brother who has already been adopted directly from the shelter) by her HIND LEG! Imagine that! What cruelties will people think of next? Being abandoned and tied to a fence is bad enough, but tied by a leg? Hannah will probably carry the scar on her leg with her for the rest of her life. It is obvious she was not tied there for just a few hours or a day, she was tied like that for a very long time to have sustained that scar on her leg. Yet she is so happy and content with the simple things in life like belly rubs and just plain old kind human attention. She loves to snuggle and will fall sound asleep in your lap. Hannah has a problem with her right eye. It does not open fully and she has no vision in that eye. It appears to be a birth defect. Our veterinarian has consulted with a specialist to see if any treatment is necessary and there isn't anything that could or should be done. Hannah will not have any special needs because of it. It doesn't bother her and it's barely noticable since it is the eye on the dark side of her head. She performs just fine as a playful, easy-going puppy. The only difference is that instead of just turning her head, she sometimes has to turn her body completely around to see. Her good eye is a beautiful green color. Hannah is also emaciated. She only weighs 21 pounds right now and should be closer to 30 pounds. She will be on the best diet, vitamins and supplements to pump her up to 100%. The weight gain should proceed quickly as she is a good eater. She gets along with other dogs and is learning that cats do not put up with any shenanigans from bouncy puppies. Hannah loves doggie toys. She has probably never seen any in her entire life and she has honed right in on them and relishes in lounging around and chewing on toys. As a precaution, and assuming she is not yet house trained, we are keeping an eagle eye on her in the house but it is easy because Hannah sticks close to her foster mom and has been very good about eliminating outside when let out frequently. Hannah will be spayed prior to adoption.
The scar on Hannah's leg from having been tied and abandoned.