ABBY WAS ADOPTED NOVEMBER 29, 2003!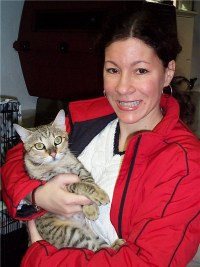 Abby (now Carly) in her new home: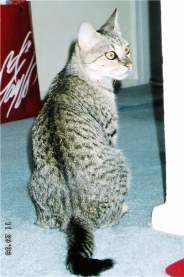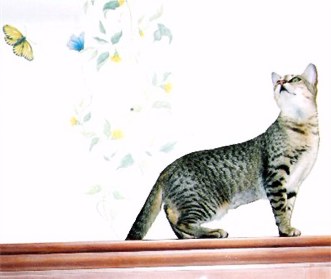 Abby's Story:
Poor Abby would have been road kill had it not been for a Good Samaritan. Traveling up Routes 1&9 on his way to work one morning, he noticed cars swerving to miss Abby, who was sitting smack in the middle of the traffic lane. One car, bless them, even hit the embankment to avoid running over her. The Good Samaritan was in a van with a high clearance so he stopped on top of Abby so nobody would hit her, got out of his van, picked Abby up and brought her to our vet's office. Abby was not in good shape and was very skinny, only weighing 5 pounds. So Abby was restored to health, spayed and gained 3 pounds during her stay at the vet's office while waiting for a spot to open in one of our foster homes, where she now resides. Abby is about 8-10 months old and is a real sweetheart. In fact, she is so loving and affectionate that the vet techs were almost in tears as we took her away. They so enjoyed taking care of Abby and were sad to see her go. But they know it's for the best. Abby needs her very own home and needs to save all of that love and affection for that very lucky person with whom she will spend the rest of her life. Abby seems to warm up to dogs pretty quickly and will tolerate cats that leave her alone. She really prefers to be a companion to a human rather than to other animals.