BAILEY WAS ADOPTED DECEMBER 16, 2004!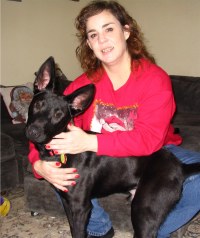 Bailey is about 1 year old and is fully grown at 45 pounds. He had been picked up as a stray and sat in a shelter run for 2 months. Nobody came by to claim him or adopt him. It is common that black dogs are overlooked in shelters and are the first to be euthanized. So we brought Baily into one of our foster homes to give him a better chance at finding a home.
He is a very sweet and outgoing dog, willing to meet and greet with everyone. Bailey doesn't seem to have a mean bone in his body. He was not at all happy with being bathed. We literally pushed him to his limit and beyond trying to get him soaped up and rinsed off to get the shelter scum off of him. Not once did he try to snap, show teeth or growl. He just kept trying to get away and needed to be held down. We find that a very good sign, that as stressed as he was, he never made a move to defend himself.
Bailey gets along great with other dogs and is a good player. He also seems to be fine with cats. He was mesmerized by all of the dog toys in his foster home. And the dog beds - what a luxury! Baily has a very cute way of cocking his head to either side when something intrigues him.