RUDY WAS ADOPTED MARCH 6, 2004!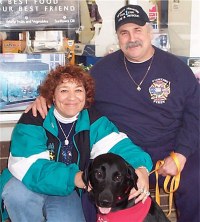 Update August 3, 2004:
I know it's been a long time but I have been wanting to write to tell you how thrilled we are with Rudy...he is the joy of my life, he is just what the doctor ordered since I was missing my chocolate lab so much. It took him about a month to really get accustomed to his new home but after that he is the king around here. He now is very comfortable going up and down the stairs and he loves sneaking up on the bed in the early morning hours in our air conditioned bedroom. He has many toys in a can by the fireplace but his all-time favorite is just as many tennis balls as he can fit in his mouth. He has made a permanent path in our back yard from the deck to the way back where he will fetch balls until his tongue hangs to his toes. He has gained about 15 pounds and we just took him to the vet today and they say he is very healthy. He loves the car and next week we are taking him down to swim at the doggy beach. He has become my best companion when I sit outside and read during the summer. He is great company and I love him dearly...thank you so much for taking such good care of him and allowing us to adopt him.
Rudy's Story:
Rudy is a purebred Labrador retriever, more along the lines of an English lab. He is somewhat smaller than a regular lab (60 pounds), has a shorter tail and a broader skull. Rudy had been picked up as a stray and taken to the shelter. He is microchipped but when he was scanned, it was discovered the microchip had never been registered so there was no way to find his owner. But his owner found him. Apparently, while on vacation, the neighbor was taking care of Rudy and he got away. The owner was to have come to the shelter to claim Rudy but that was over a month ago. He never showed up. So Rudy is now in a foster home with our rescue group where he is waiting to find someone to adopt him who will be much more responsible with his care. Rudy is a wonderful dog. He is extremely personable and friendly and he exudes joy and happiness. He is not at all shy about diving into the toy basket and making himself right at home. He loves being surrounded by toys. Rudy gets along well with other dogs but much to the one resident dog's dismay, she has been unable to engage Rudy in rough and tumble play. The other resident dog, however, is thrilled that Rudy stays out of her space and does not bother her. So Rudy would do well as an only dog or as a companion to another dog who is either mellow or older and not into interactive dog play. Rudy does, however, try to engage cats in play. He has no intention of hurting them but his play advances aren't always well received by the feline community. Rudy could live with a cat as long as the cat really, really loves dogs. Rudy is very interactive with people. He loves fetching tennis balls and will always eagerly accept head scratches and belly rubs. He is very well behaved in the house and makes a very nice and easy to care for companion. Rudy is about 2-3 years old and will be neutered prior to adoption.