NIGEL WAS ADOPTED AUGUST 1, 2004!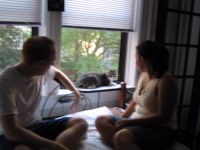 What Nigel likes to do...
Home Office Assistant: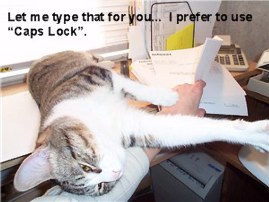 Sleeping: (Couldn't find Nigel anywhere. Who would have thought to look in the sink...)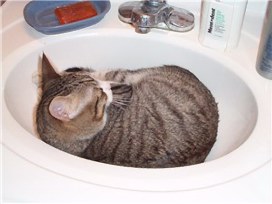 Playing: (How innovative - can't lose the toys under the furniture and they go up the sides of the bathtub and roll back down - a unique form of self entertainment...)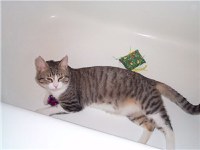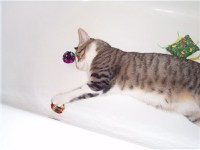 Nigel is bursting at the seams with love and he'd like nothing more than to have that special person to shower that love upon. He gives nose kisses freely and can't seem to get enough belly rubs. When petting him, if you aren't in the right area, he will take your hand very gently in his paws and move it to the place he wants it to be. He is a guy who knows what he wants and how to get it. In fact, the day we took him from the shelter into foster care, he made that quite apparent. We placed the cat carrier on the floor with the door open, then opened the door to his cage with the intention of picking Nigel up and putting him into the carrier. He needed no assistance. He stepped right out of his cage, flew past his foster mom and parked himself right in the carrier, all on his own. Could he have spoken words, we are sure he would have been saying "I am busting this joint and let's get the show on the road!" Once in his foster home, Nigel immediately received the full salon treatment: bath, manicure/pedicure, deworming, ear cleaning and flea preventative. He is fluffy and handsome and has the cutest chubby cheeks. Nigel is about 1-2 years old.