GRACIE WAS ADOPTED MAY 16, 2004!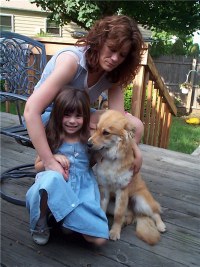 Update: June 21, 2004
Just wanted to give you an update on Gracie. She is doing great. She has settled in and is getting into everything. Chases the cats and dumps the garbage. Still needs to finish learning her puppy manners. All the kids love her and she loves being with them. She was our baseball team's mascot. Loves traveling in the car, no more car sickness.
Thank you so much for this loving bundle of fur!
Gracie's Story:
Gracie is about 10 months old and weighs 30 pounds. She is thin and needs to put on some weight. Allowing for a little extra growing, she will probably end up in the upper 30 to lower 40 pound range.
Gracie had been picked up as a stray and taken to the shelter. We were at the shelter to select a dog on the day her stray hold was up, so she fortunately only spent 7 days at the shelter. The staff highly recommended we take Gracie as she was a favorite with all of them. We did find her to be a very affectionate and attentive dog. All you have to do is pet her and she leans into you. She has some puppy spunk and playfulness but also likes to hang out. We have found her to be very well behaved.
Gracie has been professionally groomed by our friends at The Dog Patch in Westfield, NJ. She will be spayed on May 15. Because she just came into rescue on May 12, we do not yet know if she is housetrained. It takes a while to determine that and we will update once we know. Gracie loves other dogs and gets along very well with them.