HARRY WAS ADOPTED AUGUST 19, 2004!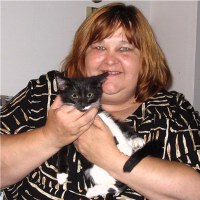 UPDATE:
I just wanted to drop you a few lines to let you know that Harry is doing just great. He is adjusting to his new home even quicker than I expected. I took him shopping and we bought all kinds of goodies for him. He's eating well and having lots of fun with his new toys. I'm having fun spoiling him. My niece stopped by to meet him last night and she's crazy about him. She's going to come over later today and take some pics with her digital camera. Once she sends them to me I'll forward some to you. Well that's about all for now. I'll keep you informed of his progress.
HARRY'S STORY:
Harry, Houdini and Henrietta were dumped in a cardboard box on Saturday, June 26, 2004. At that time they were about 5-6 weeks old. We were working a mobile spay/neuter clinic when a woman drove up, acting like a lunatic, ranting and raving. She threw the box down and took off. In the box were the kittens. The kittens appeared healthy other than the fact that they had ringworm, which is a curable fungus. They have been bathed in an antifungal shampoo and are on medication. It takes several weeks for ringworm to clear up so by that time, they will be old enough to be spayed and neutered and will then be ready for adoption.
Harry only has a little bit of ringworm on one of his back legs. Harry is the more laid back of the kittens. He likes to hang out in his hammock and observe what is going on. He is very friendly, does very well with nail trimming, baths and medicating. No complaints from Harry!
Here is Harry at 7-8 weeks old: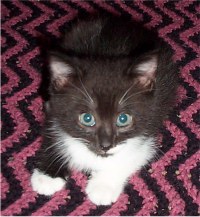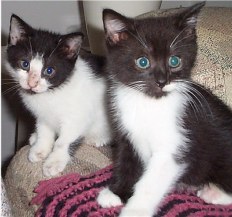 Harry is really showing his purrsonality. Stroking his back immediately engages the purr motor and causes him to roll over for belly rubs. He remains the most mild-mannered of the litter. He doesn't dive into the food vigorously like his siblings do. He just takes his time, yet he is the biggest of the litter.
Harry will be available for adoption after he is neutered on August 7.