HOUDINI WAS ADOPTED DECEMBER 18, 2004!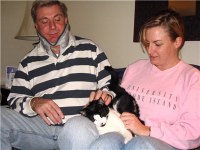 Harry, Houdini and Henrietta were dumped in a cardboard box on Saturday, June 26, 2004. At that time they were about 5 weeks old. We were working a mobile spay/neuter clinic when a woman drove up, acting like a lunatic, ranting and raving. She threw the box down and took off. In the box were the kittens.
Here is Houdini at 7-8 weeks of age (on the left in the second picture):
Houdini really isn't an escape artist. He got his name when he first came into rescue and was very small at 5 weeks of age. He was able to squeeze between the horizontal bars of his crate and escape. But when he'd see his foster mom coming, he'd squeeze right back into the crate like nothing had ever happened. A little bit of cardboard reinforcement put an end to that. Now at about 16 weeks of age (9/04), Houdini is more than capable of climbing over the baby gate which confines him to his room but he doesn't. Whenever his foster mom walks in, he flings himself at her feet and rolls over for belly rubs. Houdini has a very loud purr motor and he uses it often. He is very playful and affectionate and is one of the most cooperative kittens we have ever had when it comes to nail trimming. He doesn't fidget at all and lies very quietly, letting his foster mom take her time with clipping. Houdini has had his complete series of distemper shots, has been neutered, microchipped and is leukemia negative. He uses his litter box consistently and gets along with other cats and dogs. In fact, Houdini specifically requests a home where there are other pets since he enjoys their company and becomes very lonely all by himself.
Houdini at about 16 weeks of age (9/17/04):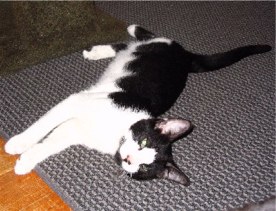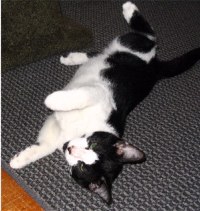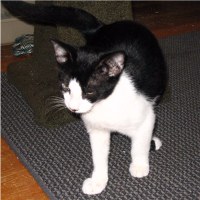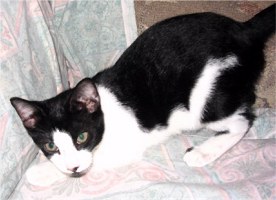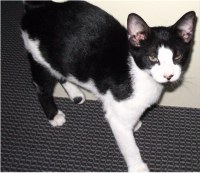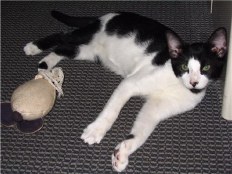 Houdini at 6 month old (11/19/04):