HENRIETTA WAS ADOPTED SEPTEMBER 23, 2004!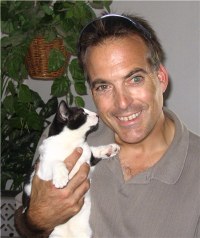 Harry, Houdini and Henrietta were dumped in a cardboard box on Saturday, June 26, 2004. At that time they were about 5-6 weeks old. We were working a mobile spay/neuter clinic when a woman drove up, acting like a lunatic, ranting and raving. She threw the box down and took off. In the box were the kittens. The kittens appeared healthy other than the fact that they have ringworm, which is a curable fungus. They have been bathed in an antifungal shampoo and are on medication. It takes several weeks for ringworm to clear up so by that time, they will be old enough to be spayed and neutered and will then be ready for adoption.
Poor Henrietta has ringworm on her face. But it is already getting better with medication and will soon clear up. She sits very nicely when her foster mom puts antifungal cream on her face. No worry about getting it in her eyes, this little girl doesn't even flinch. She takes her medications easily and sits nicely for nail trimming.
Henrietta at 7-8 weeks of age: (left in first picture, right in second picture)