ALLIE WAS ADOPTED NOVEMBER 20, 2004!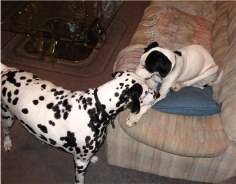 UPDATE February 7, 2005:
Just a quick note to let you know Sallie is doing very well. She grew 3 inches and doubled her weight. She is 59 lbs. and looks great. She turned out to be big girl, just a little shorter than Oscar.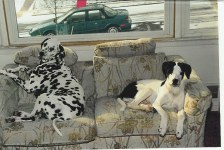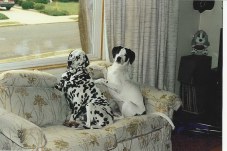 UPDATE:
Thank you so much for bringing Allie to us this afternoon. We renamed her Sallie, it's almost like Sunny, the Dalmatian we recently lost. She loves everyone in the family. My son Joshua came home from work and said "Whose dog is that?" When I told him ours, he dropped to the floor and was rubbing her belly and getting kisses. In fact, my daughter Nicole was going out on a date tonight and almost didn't want to go after meeting Sallie, but she decided to go and had a hard time leaving the house. After mourning for almost 6 months after losing Sunny and hearing Oscar cry for 6 months, it seems like everyone is happy again. Oscar has not cried all night. In fact, he is exhausted!!! Thank you again for letting us have her. My husband, kids and I could not be happier right now!! She is such a good natured dog and a real cutie!!
ALLIE'S STORY:
Allie weighs 30 pounds at 6 months of age. Allie was surrendered to animal control and she was taken to a shelter. Because she was not surrendered directly, we have no reason for surrender but we have a hunch they might have been "persuaded" to sign Allie over. She is very underweight . Having had plenty of food for the 10 days she spent in the shelter, she must have been emaciated when she came in. But now in a foster home, we will see that she puts on the rest of her weight. She is a very sweet girl who loves everyone. Allie gets along very well with other dogs and has been very good around cats, curious enough to sniff but has not been chasing them. She does not mind when the cats sniff around her bowl while she is eating. In fact, she has shown no possession issues over anything. Her shelter records stated that the previous owner claimed she is house trained. We will be evaluating that further in foster care. Allie will be spayed and have her rear dew claws removed prior to adoption.
Preferred chew bone eating position: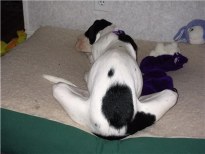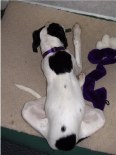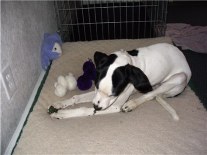 When Allie first came into foster care, she didn't understand much about dog toys. She caught on quickly and now sleeps surrounded by them: (Honestly, she put all those toys there herself!)