AUDREY WAS ADOPTED JANUARY 9, 2005!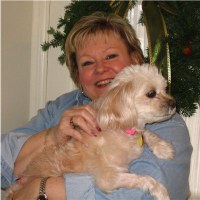 Audrey's Story:
Audrey after removal of the cherry eye, removal of abscessed molars and healed cheeks: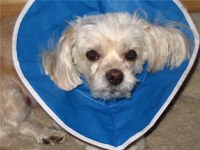 Audrey catches some rays on an unseasonably warm New Year's Day: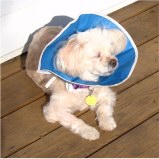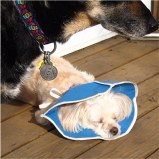 "Hey! That is MY new bed!"
"Well, since Baxter isn't in his new bed..."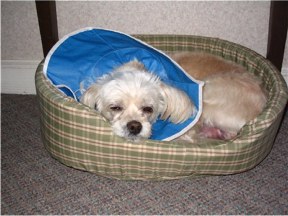 We always find it very upsetting when someone does not want to get their female dog spayed. Not only for the obvious reason, that there are already too many homeless dogs and we don't need any more litters of puppies. But also because almost every older unspayed dog that we rescue has female problems as a result of not having been spayed early in life. Audrey is no exception. It is not only obvious that she has had several litters of puppies, she also has several mammary tumors. These can be prevented by spaying. If you have an unspayed dog and still aren't convinced to spay her, please click here for an important post-surgical message from Audrey.
Audrey will have a tumor removed and biopsied and we can only hope it is benign. In addition, she has a cherry eye, which will be fixed, and broken molars which will be extracted. The broken molars went untreated and abscessed. This caused a holes to form through her cheeks where the infection had drained. Audrey is missing half of one of her ears so one ear is longer than the other. So, whomever Audrey lived with previously was extremely negligent in her care and never even addressed the most basic of her health issues. We hope to have Audrey in ship shape condition soon so she can go off to a home where her health needs will be maintained so she need no longer suffer needlessly in the future. Our groomers at The Dog Patch in Westfield, NJ performed an amazing beauty transformation on Audrey. We estimate Audrey to be about 7 years old. She weighs 13 pounds. She gets along with other dogs but she really would rather be the only dog since she is much more interested in human attention than canine attention. Audrey is a very friendly and happy girl who greets everyone eagerly. She loves to go for walks and rides well in the car. In her foster home Audrey has found a favorite spot - a spot where no dog has gone before (nor can go): Under the kitchen table on top of a chair. It makes for quite a nice, dark cubby under there where she can watch the goings on in the house. If you are interested in adopting Audrey, bookmark this page and we will update with the results of her mammary tumors. Assuming the tumors are benign, she should be able to go on to live and happy and healthy life.
UPDATE 12/29/04:
Audrey is resting comfortably in the hospital tonight. After consultation with the veterinarian, we decided to first do a check x-ray to be sure her lungs were clear before starting surgery. Had there been any sign of cancer spreading into her lungs, (under the assumption the mammary tumors turn out to be cancerous) it would not have been a good idea to proceed with surgery. Fortunately, Audrey's lungs were clear so her cherry eye was fixed, her dental work was done, and the largest mammary tumor was removed and sent out for biopsy. Spaying will have to wait for another day. It would have been too much surgery at one time for the little girl. If the biopsy comes back benign, we will then proceed with scheduling Audrey's spay. Stay tuned for more updates as we get more information.
UPDATE 1/5/05:
The lab results are back and Audrey's tumor is BENIGN!!! Audrey is scheduled to be spayed on February 2, 2005.