BAXTER WAS ADOPTED FEBRUARY 7, 2005!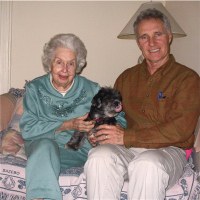 Baxter's Story: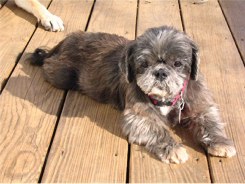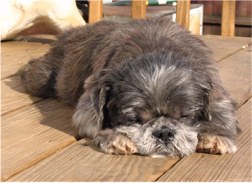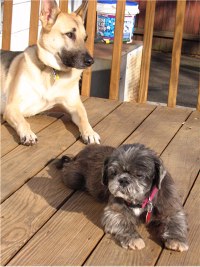 Baxter had been picked up as a stray and taken to a shelter. He is now in one of our foster homes. Baxter is estimated to be about 9 years of age and weighs 14 pounds. He is absolutely adorable and a very well behaved dog. He likes to follow his foster mom around, hang out quietly, and sleep at her feet. At night he sleeps in his little doggie bed in his foster mom's bedroom. Baxter is totally trustworthy when left home alone. And there is nothing like being gone and returning home to a special Baxter greeting. His little tail wags, he does a little dance, and he is just oh so happy to have his caretaker return. Baxter is impeccably housetrained.
Baxter came to us with kennel cough and eye and ear infections, which have been cured. He also has dry skin which is much improved with medicated baths and nutritional supplements. Baxter has been professionally groomed by The Dog Patch in Westfield, NJ, where they reported he was a very sweet customer.
Baxter has been seen by a cardiologist at Red Bank Veterinary Hospital. He has a heart murmur which has been diagnosed as chronic valve disease (CVD), a thickening of the mitral valve which is age-related and common in small breed dogs. Baxter will need to be on lifetime medication. At the moment he is only on a low dose of Lasix permamently and a cough medication as needed, which he isn't needing often at all. The medications are not costly. We will also be arranging to have his teeth cleaned and have him neutered at Red Bank Veterinary Hospital. The cardiologist estimates Baxter may live up to 5 years with his heart condition.
Baxter would be an excellent candidate for adoption by a senior citizen. He is extremely easy to care for, a great companion who will listen to anything you want to tell him, and would in turn get a quiet home where he could comfortably live out his life. We understand that people may be hesitant to adopt a dog that won't be around for a long time. But don't cheat yourself out of the joy experienced by knowing you gave a previously neglected little dog the best years of his life.