ERNIE (now Tucker) WAS ADOPTED FEBRUARY 4, 2005!
And it turns out that after his visit to the veterinary opthalmologist, Ernie does not have to have his bad eye removed! He can live with it as is forever and ever.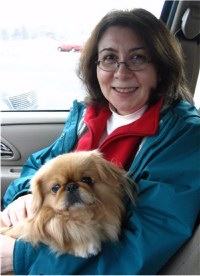 Ernie has a groomer come to his foster home to snazz him up: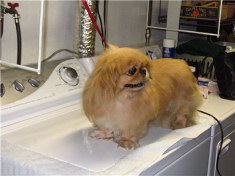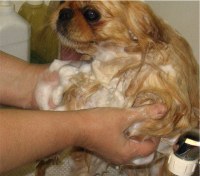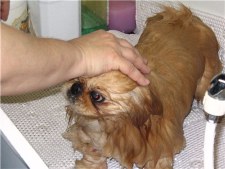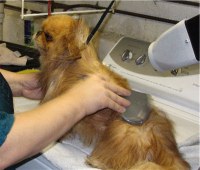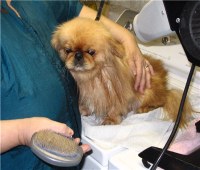 Ernie is a purebred Pekingese, about 2-3 years old, weighing 12.4 pounds. He had been picked up as a stray and taken to the shelter where we found him. We actually found him shortly before he was to have one of his eyes removed by the shelter veterinarian. Not wanting to be quite so hasty with that, we asked for permission to take Ernie into our care and have him looked at by a veterinary ophthalmologist. The shelter agreed and with us Ernie came. The preliminary assessment by our veterinarian is that Ernie suffered some sort of injury to one of his eyes and scar tissue has formed. He most likely has impaired vision in that eye but we don't think Ernie knows that. Our veterinarian's opinion is that the eye most likely will not need to be removed as it is causing Ernie no discomfort. We will still have Ernie seen by the ophthalmologist for a final determination.
Ernie is a very sweet boy. Loves people, gives kisses, is a sucker for belly rubs, and will fall asleep in your arms like a baby. Ernie does, however, request that he be an only dog in his future home. Ernie will be professionally groomed and is scheduled to be neutered on January 25.