A.J. WAS ADOPTED JULY 4, 2005!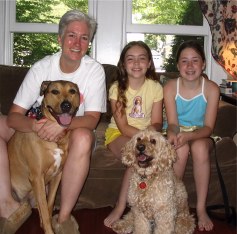 Update July 5, 2005:
AJ did really well yesterday. He definitely missed you as soon as he realized that you were not in the back yard. He cried a little and stood at the gate for a few minutes. The kids were able to distract him and he did well. He had a VERY active day! I can't believe that he's 8!!!! He went for several walks, met the neighbors, attended (briefly) a neighborhood barbecue (met the neighbors cats...) and settled in for a comfortable evening, despite the fire crackers going off down the block. He did trail us whenever we got up or moved. He seemed happy enough but determined not to be left alone. Buster seems not to mind him at all and even allowed AJ to have a taste of his dinner ( I had to shoo him away).They each got a veal chop bone to gnaw on in the back yard after dinner and he LOVED that very much!!! He slept as close to my bed as possible and followed me to the bathroom whenever I got up. He is very dear and eager to please! He's doing a great job of helping Buster scare away all of the noisy trucks and unwelcome pedestrians and the occasional squirrel. They are very cute together. I'll let you know more as the days progress. Thanks so much for letting him come to live with us. We really appreciate all of your hard work and dedication. It really shows in his good manners and calm behavior.
A.J.'s STORY: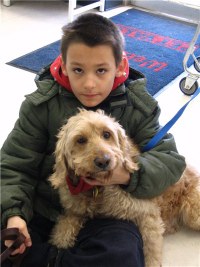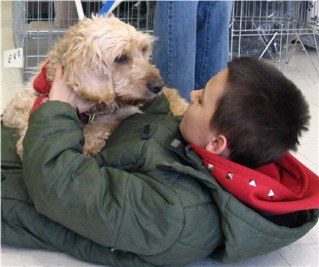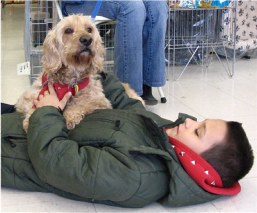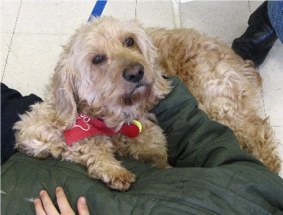 A. J. was surrendered to the shelter when his owner passed away. We found him and brought him to one of our foster homes the day after he landed in the shelter. This lucky guy didn't have to endure shelter life for very long. We don't know if the information on his shelter tag came from the person who brought him to the shelter or how knowledgeable that person was about A.J., but he was listed as an 8-year-old cockapoo. AJ was very underweight and is now up to almost 30 pounds.
A. J. does not mind other dogs but he is not an interactive player. He is happy to mind his own business and coexist peacefully. A. J. is housetrained and is trustworthy left home alone but it seems he is used to someone being around most of the time. We feel he most likely lived with an elderly/retired person previously. AJ does require periodic professional grooming. He has been neutered, is up to date on shots and is current on heartworm preventative.
A. J. is a very well behaved dog and is the sweetest guy. He is very mellow, easy-going and affectionate. The highlight of his day is when visitors some to his foster home. A guard dog he is not! He welcomes anyone and everyone.
On March 8 A.J. went to a veterinary dental specialist to have his teeth cleaned. It looked like there were some bad teeth so we wanted him checked by a specialist. It turned out that A.J. needed to have 18 teeth pulled! This leaves him with 21 teeth and he will get along fine with those. Most importantly, he had been living in pain due to neglect of his mouth, which the veterinarian says has been over a period of years. AJ has now fully recovered form his dental work and has been professionally groomed. He has a spring in his step and a twinkle in his eye that wasn't there before. He is feeling good! A.J.'s dental work came to much more than we expected, a total of $1,700. He is certainly worth every penny and now in good health, he can now go on to live happily.