CASSIE WAS ADOPTED SEPTEMBER 11, 2005!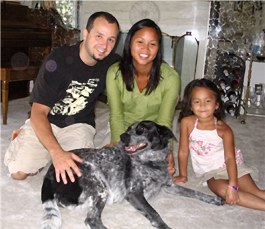 Cassie was adopted from us in 2001. She is now 5-6 years old and due to a divorce, she is in need of a new home. To see Cassie's original pictures and write-up,
click here
.
According to Cassie's last family, she is extremely sweet and was loved very much. She loves people, children especially, and cats. She had previously lived with two cats and 2 children over the age of 10. She is crate trained (goes in her crate on command), housetrained and is very well behaved. She had a recent visit to the vet with a clean bill of health and has been groomed/nails cut, all shots are up to date and she has been on heartworm preventative. Her complete medical records are available.
Cassie is a very alert dog who hears everything and will let you know when visitors approach the home. She walks beautifully on a loose leash and loves going for walks. She is currently overweight by about 10 pounds and has started on a diet. Her ideal weight should be around 45 - 50 pounds.