LENNY WAS ADOPTED DECEMBER 21, 2005!
On Saturday, December 17, 2005, Lenny departed with his foster mom to Fredericksburg, VA to start on his trip to his new home in Florida via the "Canine Underground Railroad" - volunteers who offer to drive relay-style to move dogs around the country. Lenny had just been professionally groomed for his trip and was looking like the schnauzer he is!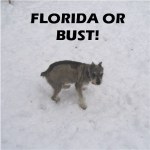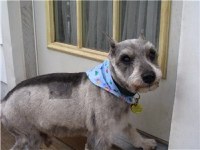 In Fredericksburg, VA, Lenny was picked up by volunteer transporter Janie and driven into North Carolina where Lenny continued his trip south with volunteer transporter Joe. They met up with volunteer Diane who was headed all the way to Sarasota, Florida. First, Lenny spent the night outside of Raleigh, NC in a motel with Diane. The next day they drove to Jacksonville, FL where they had dinner with friends and spent another night in a motel. On Monday, December 19, they were headed to Sarasota, FL when the back window of Diane's brand new car broke and fell in! Lenny was fine and rode in the passenger seat with the airbag off the rest of the way to Sarasota. Thankfully it had stopped raining and the temperature was in the 60's so they could drive on without a back window. Lenny spent two days in Sarasota with Diane's family and Herman, the dachshund, and on Wednesday, December 21 he was picked up by his new family who had been anxiously awaiting his arrival.
Lenny and Herman hanging out in Sarasota, FL:
And a note to all of the transporters from Lenny's forever home:
Hi all -- and thank you again for your help in getting Lenny to us! We
picked him up in Sarasota this afternoon, where we had a lovely visit with
Diane, her parents and Herman the Dachshund.
Attached is Lenny's first official forever home photo, which unfortunately
shows Lenny's fear of the camera. Now that it's been put away, however,
he's resting under the dining room table with his head between his paws and
looking adorable. He has sniffed about every inch of the house, is enjoying
getting used to all the new smells outside, and has already made quite a few
new neighborhood friends.
Thanks again, and happy holidays to you all!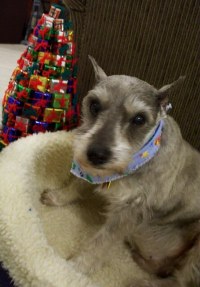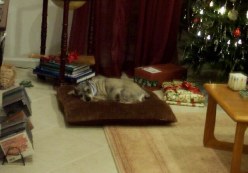 UPDATE MARCH 22, 2006:
Below are recent Lenny photos we snapped shortly after his recent grooming. We found a mobile groomer who brings a truck to the house--no waiting in cages! Lenny charmed the groomer and was completely unfazed by the experience. He had gotten pretty scruffy (signs of his medicine patch are long gone), so we opted for another close crop. Next time we'll go for a schnauzer puppy cut and leave some whiskers.
Lenny is doing great and has us very well trained. We enjoy our little guy and his funny antics and share the story of his journey to Florida and your good works every chance we get. We cannot thank you enough!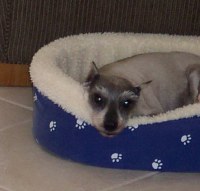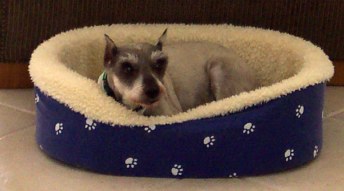 LENNY'S STORY:
We really can't stand to see any dog in a shelter but when we find out about an old dog in the shelter, shaking uncontrollably from fear and stress, we actually lose sleep over it. That is what happened when we heard about Lenny, so we just had to go and get him.
Lenny fell asleep in the car on the way from the shelter to his foster home. He woke up long enough for a much needed bath and romp around the yard, then went back into a sound sleep. Probably the first peaceful sleep he had in a month. That is how long he sat in the shelter before we found out about him. Away from the stress of shelter life, Lenny no longer shakes in his foster home.
Lenny is about 10 years old and weighs 25 pounds, a little tubby, but we are working on that. He is a purebred Schnauzer, although his pictures don't look it unless you really use your imagination. He had come into the shelter with long, filthy, matted hair. Nothing could be salvaged so he was completely shaved. He has a docked tail and cropped ears and if you draw little eyebrows and a beard and mustache on his "after" picture, you should be able to see the Schnauzer emerge. He does the cutest little dance. When you massage his back, working from his neck down, as soon as you hit right above his tail, he starts kicking up his back legs into a dance that looks very much like river dancing!
Lenny appears to be in good health. His heart sounds good and we had full bloodwork done on him, the results of which were very good. Some of his levels are slighly off, nothing that indicates any sort of problem, just that he needs some better nutrition, which he is now getting in foster care. He came to us with severe dental disease. Lenny went to the dentist and had most of his teeth pulled. He does still have his lower canine teeth so he will be able to keep his tongue in his mouth. But with all of those rotten teeth gone, he will do great and will feel so much better. Once he is healed he will be able to eat dry dog food just fine. You know what it is like to have a toothache - imagine a full mouth of that! Lenny was already feeling good when he was picked up after surgery. He even did a river dance demonstration for the vet!
Lenny recovering from dental surgery:
He wouldn't sleep in a doggie bed at first so he wore a coat to keep warm. He gradually started sleeping with his head in a crate mat as above, then eventually sleeping with his whole body on the crate mat. (The flannel sheet on the mat was for added warmth since the crate mats are not very thick.) Once he mastered that, we swapped out the crate mat for a real doggie bed which he now uses always. Seems like he just did not know what a doggie bed was and what to do with it. Now he loves his little bed so much it will go with him when he gets adopted. With doggie beds all over the house, his own little bed is the only place he goes for naps.