DEXTER WAS ADOPTED DECEMBER 5, 2005!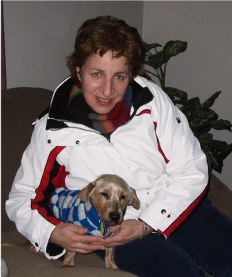 Dexter is either a Dachshund/Terrier mix, or possibly a purebred wirehaired Dachshund. Hard to tell since wirehaired Dachshunds are smooth Dachshunds intentionally mixed with terrier. He is about 3 years old and weighs 13 pounds.
Dexter had been found as a stray and never reclaimed. When we were taking him from the shelter into one of our foster homes, it was obvious he was very bonded with the kennel staff. He didn't want much to do with his future foster mom but kept looking for kennel workers he knew. Once away from the shelter, he bonded with his foster mom right away and began following her everywhere. As this is being typed, Dexter keeps coming over and putting his paws on his foster mom's lap, mooching for pats on the head. Dexter will at first be aloof and guarded towards people he doesn't know but it only takes him a few minutes to warm up.
Dexter gets along well with other dogs. He is heartworm negative, dewormed, bathed and up to date with shots. He appears to be housetrained - we just got him in on 12/3, so we will give it a couple of days before making a final determination. At the shelter they said he never soiled his cage and the dogs are only taken outside about twice a day. He will be available for adoption after he is neutered on Monday, December 5.