EDDIE WAS ADOPTED OCTOBER 16, 2005!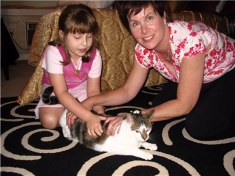 Update October 27, 2005:
Eddie is a DREAM!!! He is sooooooooooooooooooooooooo happy to be sleeping on a satin bed, bird-watching from the living room window and French doors! He snuggles and wraps himself around us ALL the time-- the purr is the best!
He gets more awesome each day.
He is ALWAYS under foot -- last night I was cooking and Syd was doing homework. We had classical music playing. Syd started to belly laugh...I turned around to find Eddie flopped smack behind my feet -- had I not seen him, he would have been squished!!!
He joins us in the bathroom, follows Syd and her friends everywhere, and is getting used to being carried like a baby on his back in our arms. He likes the hall closet.
Every morning, I wake between 5:30 and 6 to do work for a couple of hours before Syd is up. There he is, waiting for me in the doorway to our room! While I have coffee and work on my laptop, Eddie finds "ghosts" and races around the house, rounding them up. When Syd is up, he takes one of his favorite toys to her, she grabs one end, and he pulls her into whatever room he likes.
Every morning, we put classical music on the radio, plump the cozy covers for him and leave a very happy cat to his own devices.
He is the best thing we have done together as mom and daughter.
In November, he will take a road trip with us to Rhode Island where he will surely enjoy the smells of our motel room!
I can't wait to see him tonight! Thank you for thinking enough of us to allow us the honor of his company!
Laura
EDDIE'S STORY: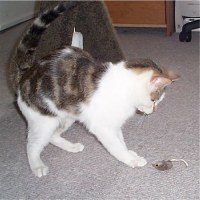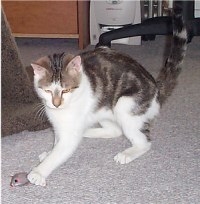 Eddie has been waiting for a home of his own for a long time. His only crime is that he is no longer a little kitten and during kitten season, the adults have a very hard time getting adopted. After being in foster care for 1 1/2 years, Eddie is now 2 1/2 years old. Eddie was rescued from deplorable conditions at a shelter where he was forced to live in a small cage in his own waste because cleaning cages was not done often enough. He had no food or water since everything spilled through the bottom grate of the cage. (We understand that this shelter is now under new management and we can only hope conditions have improved as our complaints were ignored.) Eddie came into our foster home where he cleaned up nicely and is more than happy to maintain his cleanliness on his own as all cats want to do when they have a choice. He uses his litter box always and keeps his white fur sparkling white. Eddie is neutered, up to date on vaccines, AIDS and leukemia negative, gets along with other cats and dogs. He is playful, friendly and craves human attention. He will make himself scarce when strangers come into the home, but set your watch. It takes him exactly 5 minutes to come around and start schmoozing. He just needs to check things out from a safe distance first.