KIRBY WAS ADOPTED MARCH 24, 2006!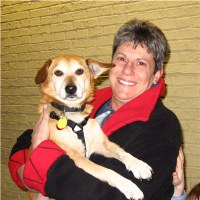 Kirby is a very good-natured, 2-3 year old mixed breed, just a conglomerate of generations of mixing all in a little 18-pound body. (He is a little smaller than cocker spaniel size.)
Kirby was found during a snowstorm on a rural Virginia road. A Good Samaritan took him in and kept him while he posted flyers all over town but nobody came forth to claim him. Kirby had been found wearing 2 collars but no ID. After 10 days and no luck finding an owner, the Good Samaritan took Kirby to the shelter. We picked Kirby up from the rural Virginia shelter while in the area on other rescue business and brought him back to New Jersey. Kirby's time was almost up in that shelter because of the constant influx of hunting dogs being surrendered when they won't hunt. It's a small shelter and space fills up quickly.
Kirby loves everyone, man woman and child. He gets along great with other dogs and cats. He sees a cat and says, "OK, it's a cat" and goes about his merry way. Kirby is a snuggly dog. He LOVES attention, will sit or lay next to you for as long as you are willing to pet him and will give gentle nose nudges if you stop and he hasn't had enough yet. But if you are finished, he isn't annoying about begging for more attention. Kirby has no issues that we have been able to detect and we have pushed every button we can think of. Kirby is completely trustworthy when home alone and he is housetrained. So, you say, this sounds like a great little dog! Truly, he is. But he comes with a couple of special needs.
When we first got Kirby out of the shelter we noticed a limp. He had a fracture of the femoral neck, possibly from being hit by a car or kicked really hard. He underwent femoral head excision surgery where the head and neck of the femur were removed. Kirby has had physical therapy, has regained full use of his bad leg, and can do anything any other dog can do. Once his hair grows back in completely from being shaved during surgery, you won't even know anything had ever been wrong with his leg. The surgery was a permanent fix. Kirby will benefit from ongoing daily walks to keep his newly formed muscles in shape. He walks very nicely on a leash and is very easy to handle.
Kirby has been allergy tested. He is most highly allergic to fleas so this would involve religiously applying Frontline every 3 weeks in season. OK, so that is easy enough. But, Kirby is also allergic to just about everything else - many types of trees, grasses, weeds, molds, and insects. One thing he is not allergic to is cats! He is receiving allergy shots which will desensitize him to the things he is allergic to. The shots are given at home and it is very simple to do. Really - if his foster mom can do it, anyone can! Initially, the shots are more frequent but when it reaches the maintenance point, it will be one shot every month. This will be for his entire life.
And lastly, Kirby came to us heartworm positive. This is actually the easiest of his conditions, believe it or not. He was seen by a cardiologist who determined his heart is in perfect shape and the heartworm infestation is not severe. Heartworm treatment, where the dog is injected with arsenic, can be very risky. He would have to remain totally quiet for 6 weeks or the rapid death of the heartworms could cause blockages, which would kill him. This would conflict with the exercise he needs to get his leg back in shape. So we are opting for the slower, but safer route, with the blessing of the cardiologist. That simply involves giving Kirby heartworm preventative every month. It is perfectly safe and should kill off the existing heartworms in 12-18 months. When Kirby is adopted he will come with a supply of heartworm preventative.
So, are you interested but worried about what all of this will cost? Actually, it won't be bad for his adoptive home. Thanks to our supporters who sent holiday donations and the many, many people who generously donated for us wrapping their holiday gifts at Barnes and Noble, we have been able to cover all of Kirby's up front expenses, which have been by far the most costly. We will have invested about $3,000 in him and the little guy is worth every penny. The only extra expense Kirby's future home would have is for vials of allergen to continue his allergy shots and that would come to about $300 per year. This cost is about the same as for a dog that would require professional grooming every 6-8 weeks. (Kirby does not require professional grooming.)