JESSIE WAS ADOPTED AUGUST 9, 2006!
Jessie's Story: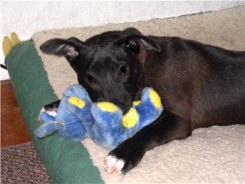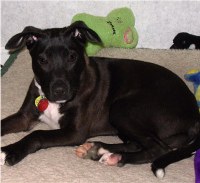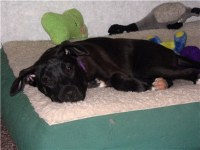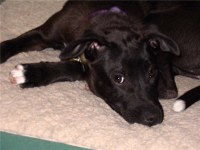 Jessie is tutored by Shawnee, one of the resident dogs, in the fine art of baby pool swimming: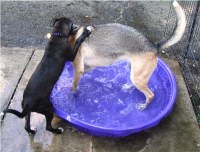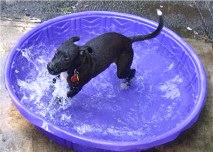 Jessie is 16 weeks old and weighs about 25 pounds. She is probably the result of generations of mixed breeds so it is very hard to tell exactly what she is. She is mostly black with white paws, white chest and a white tip on her tail, but she also has tones of chocolate in her coat. Jessie loves to play with toys - will clear out the toy basket in no time flat - and will play tug-of-war nicely with other dogs. She encourages other dogs to play by offering them her toys. She is happy to interact with people or play with toys all by herself. She lives in a foster home with 4 much larger adult dogs and this little girl can hold her own with them! Jessie is a very sweet and affectionate puppy who loves to snuggle. She is working on housetraining and has made great progress. With showing Jessie only three times that leaping in the air for food is not considered socially acceptable, rather sitting and waiting patiently for one's bowl to be placed on the floor is, Jessie now sits without being told in anticipation of her meals. She is a very smart girl and catches on quickly when she knows what is expected of her. Putting her in the crate is like pushing her off switch - she knows that means nap time and goes right to sleep. Jessie has been spayed, microchipped, is up to date on shots (has had her full series of puppy shots and rabies shot so she is good for a year) and is on heartworm and flea/tick preventative.