CASPER and CASEY WERE ADOPTED DECEMBER 11, 2006!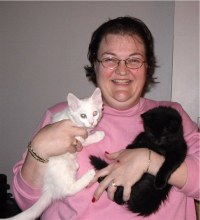 10/8/06 - TWO WEEKS OLD (weighing 8 ounces)
Casper (don't know if boy or girl yet) was found abandoned all alone at about 2 weeks of age. He is solid white without a single marking on him. His eyes had recently opened and he weighed 8 ounces. A woman brought him into the Pet Valu store during our adoption event to find out what to feed him. We gave her instructions and set her up with formula and bottles but by that evening she threw in the towel. Trying to get kittens to take formula is very stressful and frustrating and not at all easy. So Casper came into our foster home. His foster mom syringed formula into him throughout the first night. By morning, Casper finally clamped onto the bottle and sucked away, ears twitching happily. Kittens his age usually take in 8cc at each feeding. Casper downs 15cc in mere seconds! And his foster mom heaves a sigh of relief that he actually does have a good appetite and has every chance to survive now.
10/9/06
It was important to find Casper a step-sibling. Kittens need the rivalry, competetition and companioship of siblings to grow into well-develped cats. Raised as an only kitten, their personalities are seriously compromised. So in search of a step-sibling we posted on rescue e-groups looking for another 2-week-old kitten, during the time of year in which kittens are not as plentiful. A woman responded from two towns over. Her neighbor had found a kitten over the weekend and it happened to be the exact same age and weight as Casper. The 14-year-old daughter had been up all night getting Casey to eat and had to miss school because of kitten-induced sleep deprivation. (She did an excellent job as kitten mom!) But she obviously couldn't continue to miss school so Casey, the all black kitten, came to us to be raised with Casper.
If you are wondering about the funny looking bottle in Casey's picture, that is something we invented to keep the formula warm longer. It's simply packing foam formed around a bottle, held together with good old duct tape. We simply insert the warmed bottle and the formula holds its temperature longer. Works beautifully!
10/10/06
The first together picture:
Casper and Casey love each other! They snuggle together when sleeping and have already tried to play with each other. Where Casper would cry himself to sleep before Casey arrived, Casper is now so content he has not cried at all.
10/11/06
Casper and Casey had their first vet visit. They have been constipated so they had to get little kitty enemas. We will be putting some plain yogurt in their formula to get them more "regular". And we were able to find out what they are. Casper (white) is a little girl and Casey (black) is a little boy!
10/15/06 - THREE WEEKS OLD (weighing 10 1/2 ounces each)
Before midnight feeding:
"WE WANT OUR MIDNIGHT SNACK!!!!!!!!!!! AND I WANNA BE FIRST!!!!!!!!!!!!!!"
During midnight feeding:
"SLURP, SLURP, SLURP, PURR, PURR, SLURP, SLURP SLURP, PURR PURR..........."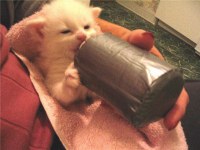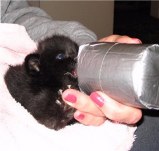 After midnight feeding:
"ZZZZZZZZZZZZZZZZZZZZZZZZZZZZ.................."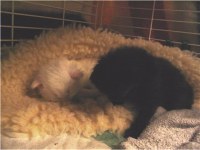 10/22/06 - FOUR WEEKS OLD (weighing 1 pound each)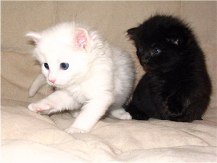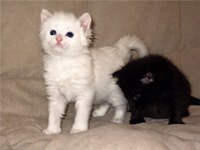 11/6/2006 - SIX WEEKS OLD (weighing 1 1/2 pounds each)
The kittens are now weaned and are using their litter box 100% of the time. Casper and Casey both love to be held and purr equally with delight. They love their new and expanded housing where they can securely romp around and play with all kinds of toys.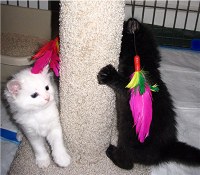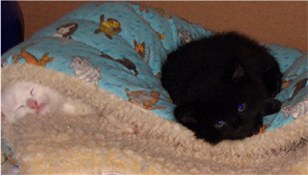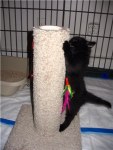 12/11/2006 - ELEVEN WEEKS OLD