ONYX WAS ADOPTED NOVEMBER 12, 2006!
(and now lives with former adoptee
Otto
)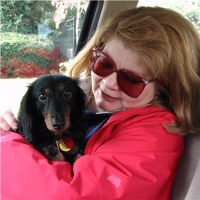 UPDATE - March 2, 2007
Hi, Just thought I'd give you an update on little Onyx. She's the sweetest little girl and she has blended into our "family" totally.
I had her to the doctor yesterday because the doctor wanted to re-do her blood work which originally showed her blood sugar low. The doctor wanted to re-do it b/c she felt it might not have been "spun" fast enough so she wanted to do it herself. The new blood work showed her blood sugar way low - 45 - so we are continuing with the little meals throughout the day, with more emphasis on carbos since the doctor says carbos produce more sugar. She's now thinking that she might have a small liver - but since there isn't anything they can do for it, i'm not getting any tests done, what would be the point? She's thinking the seizures could be related to the sugar problem, but that doesn't really make sense to me. But now I will push the carbos in between her regular food and see if that helps.
She has a seizure about twice a month. The doctor thinks that she shouldn't be on Phenobarbital b/c her episodes are very short and she seems fine after in that she's not falling all over the place. After the seizure she just runs around for about an hour til she gets tired and then goes back to bed. I'm handling it better - the first couple of times were very upsetting, but now I anticipate when she might have one coming on based on the length from the last one, so i'm more or less expecting it. She usually has them in the middle of the night. Since she pees or poops all over herself during the episode, I usually give her a bath to clean her up - so there I am running the tub at 4:30 a.m. I just can't leave her smelly - the urine is especially stinky. So at the very least she gets her rear end washed.
All this is a very small price to pay to have her cute smiling face in our lives. She is just the friendliness little thing and we thank you for giving her to us. Otto says hello!
ONYX'S STORY:
Onyx is a 13 pound, 5-year-old, long-haired Dachshund who was surrendered to a shelter when her family's landlord found out about her. It was actually a good thing for her because she was turned in loaded with sarcoptic mange. Onyx spent a month in the medical department where she was treated and ridded of the mange mites. She still has some bald spots where the hair needs to grow in but that will happen with time.
When we took Onyx from the shelter to bring her into one of our foster homes, we found her to be a little shy and reserved initially, but she warmed up in no time. Actually, it appears that she was just very stressed at the shelter because after a day in foster care, she came into her own and her personality emerged. She is a very, very sweet dog. She soon started giving kisses freely, nudging if the petting stopped to soon and became quite the snuggle bunny. The medical staff at the shelter said she had been a model patient while she was there and they never had any problems with her. So it should have been no surprise to us that when we bathed her, she stood perfectly still and let us give her a good scrubbing. She actually seemed to enjoy it! Even washing her face was no big deal for her.
Onyx is fine with other dogs. She tolerated the three much larger dogs in her foster home checking her out, and they can be a little pushy about wanting to be first to sniff the newcomer.
Onyx is heartworm negative and up to date with distemper and rabies vaccinations. She is spayed, microchipped and has had her teeth cleaned.