TROY WAS ADOPTED NOVEMBER 28, 2006!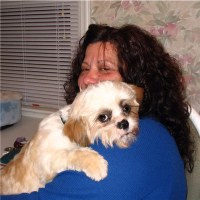 UPDATE - January 13, 2007
Thank you, thank you, thank you... I don't know what more I can say. Troy is wonderful and has added so much to our family. Still doesn't like going outside but we are working on that. We haven't had an accident in the house in 8 whole days and he is very proud of that. I've enclosed a picture with his Santa hat on.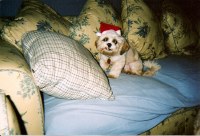 UPDATE - October 30, 2007
JUST A LITTLE NOTE TO LET YOU KNOW THAT OUR BOY, TROY, IS AWESOME.....
HIS NICKNAME IS "CUJO", DOES THAT TELL YOU ANYTHING..(HE'S CRAZY) BUT WE LOVE HIM TO PIECES...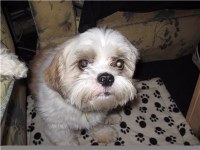 TROY'S STORY:
Troy is a 10-month-old, 15 pound, supposedly Shih Tzu. He had been purchased at a pet store so due to the indiscriminate puppy mill breeding of pet store puppies, we make no guarantee as to his breed. In agreement with the groomer, we feel he is more Lhasa Apso. We will list him as both and you be the judge.
His owner released him when she realized he had an eye problem that she was told would cost several thousand dollars to fix. He supposedly has impaired vision in one eye and without surgery, she was told he would go blind in both eyes. Troy has an appointment with a veterinary ophthalmologist on November 17 and we will update then. We intend to raise funds for surgery for Troy if that is what he needs so his eyes will be fixed prior to adoption. Our vet, however, feels that Troy simply has an ulcer in his eye which is healing.
He's a very sweet boy who has not been exposed to much outside of his previous home. This will all change in foster care - he will see more of the world than he ever realized possible. He's already gaining more self-confidence. Where he refused to walk on a leash, within just 4 days he has learned that one can move oneself forward while at the other end of a leash.
Troy is wee wee pad trained but we will be working on actual housetraining. He gets along great with other dogs of all sizes. Troy has been brought up to date on shots, microchipped, dewormed, is heartworm negative, and will be neutered and have an umbilical hernia repaired prior to adoption. Troy has been professionally groomed compliments of Reigning Cats and Dogs Salon in Westfield, New Jersey.
Troy before grooming: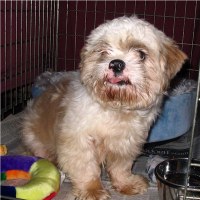 Troy after grooming: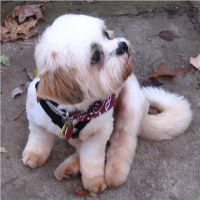 Troy doing dog things that he is learning how to do in foster care: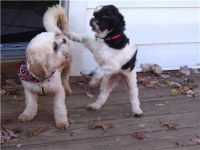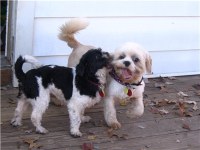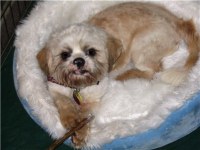 A message from Troy:
Hi! This is Troy. I want to tell you about the big adventure I had today on my two week anniversary of being in my foster home. I left in the car with my foster mom and two of her dogs. She said we were going to go hiking with Haley and her mom in Connecticut. Three hours later we arrived at Haley's house and wow, is she HOT! Haley is a very beautiful and petite border collie mix. She had been adopted from North Shore Animal League two years ago. We ran around her yard for a while and she let me try out all of her toys. Then we all got into my foster mom's SUV - two moms and four dogs - and headed off to what is called a state park. I didn't know what that was but I sure did like it when I got there. It was all trees as far as you could see. My foster mom said that if I promised to stay with the pack (she figured I would since I always follow other dogs around) she would let me off my leash with the dogs who hike all the time and listen well. I promised and sure enough, I stayed right with the big dogs, running as fast as my little legs could carry me, ears flapping in the breeze. When my foster mom would tell them to wait up, I'd stop and wait with them. We weren't allowed to get very far away. We came to some waterfalls and that kind of scared me. Everybody else walked over a rickety bridge but I stopped and wouldn't cross. The moms started cheering me on from the other side. I took two steps and stopped. They kept cheering. So I took a deep breath and ran across as fast as I could. I got applause and I was so proud of myself. After that, I wasn't afraid of bridges and waterfalls any more. Then we had to cross a stream on rocks. Again, everybody else made it over and I had to think about it for a minute but I gave it my best shot. And I fell in! Yup, almost went completely under but I paddled and got myself out, shook off, and everything was cool. My foster mom was happy she didn't have to jump in to save me. The water was actually quite refreshing. Truth be told, I was so filthy from running through mud that I really needed the rinsing. We met some other people hiking with a dog and I liked their dog, too, so I thought I'd hike with them for a while. (My foster mom didn't specify "which" pack I had to stay with...) But when my foster mom noticed, which was right away, darnit, she had to run back to get me. Told me I had to stay with my own pack. Everybody thought that was funny. I am told we hiked 5-6 miles and even though my foster mom was prepared to carry me if I got too tired, she never needed to. I don't remember the 3 hour drive home. I fell asleep and the next thing I knew, we were home. It was the best day of my life!