PETEY (now Stitch) WAS ADOPTED DECEMBER 25, 2006!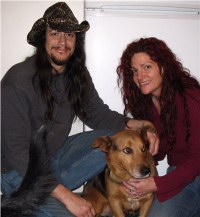 PETEY'S STORY:
For size comparison purposes, Petey next to a 35-pound dog: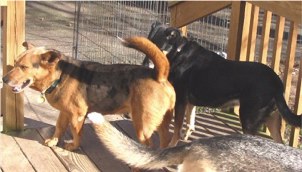 Petey playing with his friend: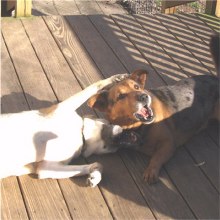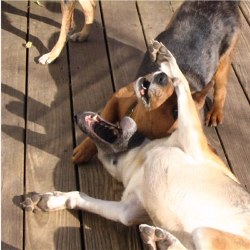 Thanksgiving will always have special meaning for Petey since he has so much to be thankful for. Had there not been an intervention involving three different rescue groups (All Star Pets, Friends of Linden Animal Shelter and Companion Critters), he would not have lived to see Thanksgiving Day 2006. Petey was sprung from an animal control facility on the day he was to be euthanized - the day before Thanksgiving. He had been found as a stray, not claimed and his time was simply up.
Petey seems to be a mix of Australian Cattle Dog and Corgi (and probably a few other breeds). His body is the coloring of a blue merle Corgi or Blue Heeler. Not to mention his stumpy little Corgi legs. He is a 40-pound dog with a shoulder height of only 15 inches. Because Petey had been found as a stray we do not have an exact age but he is guessed to be 2-3 years old.
Petey is great with other dogs. The one resident dog in his foster home who is slow to warm up to new dogs, took to him in no time at all - a true miracle! But certainly a reflection of how other dogs perceive him to be, which is completely non-threatening. He also seems to be good with cats. Petey has been very friendly and charming towards every human he has met. He has nice manners, is very well behaved and takes treats very gently. Petey has been brought up to date on shots, has been dewormed, heartworm tested, microchipped and neutered.
A quote from the adult son in Petey's foster home: (Who does not generally have such strong opinions on the foster dogs.) "He would make a great family dog. I can't believe he was supposed to die. He is such a nice dog."