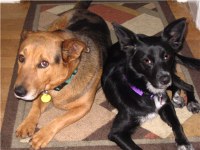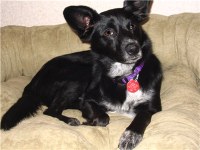 Haley had been found running the streets as a stray. She was taken to a shelter where she sat for over 3 months before we found her and brought her into a foster home. Her cage tag simply read "mixed breed" since her actual breed went unrecognized at the shelter. Whether Haley is 100% purebred border collie or not, she is at minimum mostly border collie. She has the intelligence, intensity, drive and focus that border collies are so well known for. She will bring a tennis ball, roll it towards your feet, back up and wait in crouched position for the ball to be picked up and thrown, intently staring at the ball and only the ball, no other world existing in that moment.
Haley is a fine-boned, petite little girl weighing 25 pounds. She is about 2 years old. Haley is very affectionate and loving, leaning into people for affection. She gets along well with other dogs and is not cat-aggressive, although she does become excited when she sees a cat so she very well may indulge in cat chasing. We will need to assess her kitty interaction skills further.
Haley is heartworm negative, is up to date on shots, has been dewormed and will be microchipped and spayed prior to adoption.