HALEY WAS ADOPTED JANUARY 31, 2007!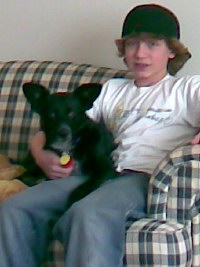 Haley's Story: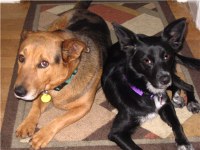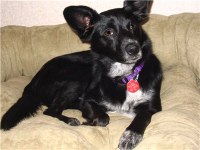 Haley had been found running the streets as a stray. She was taken to a shelter where she sat for over 3 months before we found her and brought her into a foster home. Her cage tag simply read "mixed breed" since her actual breed went unrecognized at the shelter. Whether Haley is 100% purebred border collie or not, she is at minimum mostly border collie. She has the intelligence, intensity, drive and focus that border collies are so well known for. She will bring a tennis ball, roll it towards your feet, back up and wait in crouched position for the ball to be picked up and thrown, intently staring at the ball and only the ball, no other world existing in that moment.
Have you ever heard the clothes dryer buzz and said to yourself, "I'll get it in a minute…" then forgotten about it and had the clothes wrinkle? That won't be happening with Haley in your home. She has designated herself as official laundry patrol dog. When the washer or dryer buzzes, Haley jumps up, runs back and forth to the door where the laundry is, whimpering, to let you know your attention is needed and there will be no slacking off on laundry duty!
Haley is a highly intelligent, fine-boned, petite girl weighing 25 pounds. She is about 2 years old. Haley is very affectionate and loving, leaning into people for attention. She will chase kitties in motion, so a home without cats would be best for the feline citizens.
Haley is heartworm negative, is up to date on shots, has been dewormed, microchipped and spayed. She is meticulously housetrained and is very well crate trained, immediately going into her crate on command. In fact, when she knows her foster mom is getting ready to go to bed, she is already in her crate waiting before being told to go in.