ALLIE WAS ADOPTED JANUARY 1, 2007!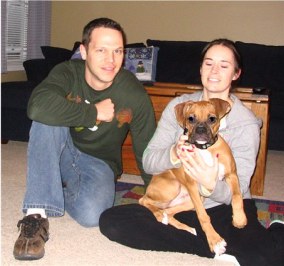 UPDATE: JUNE 16, 2008
I was just looking back at your website and noticed that our dog Allie was still on your "adopted" website. She is a young female boxer that we adopted from you back in January 2007. It's hard to remember her being that small! I just wanted to let you know that Allie is almost 2 years old and doing wonderfully in our home. She has grown into a beautiful and energetic young lady...all 60 pounds of her. She is great with all our neices and simply loves our newborn daughter who she constantly checks on and kisses. She graduated from a training class with flying colors and will do anything for a treat...including sit, stand, roll over, stay (most of the time), come (as long as there's food involved), and jumping through a hoop. :-) She still has some trouble controlling her excitement and not jumping up on people that come to visit...but we are constantly working on that. She is doted on by everyone in our family, including her grandparents that spoil her to death. Her favorite activity is running freely through the woods and splashing in the lake near our home...disturbing any fishermen that might be nearby with a smile on her face. Thank you so much for bringing her to us. We are truly blessed to have her as part of our family.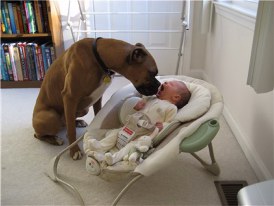 ALLIE'S STORY:
Allie is a 4-month-old, 22 pound, purebred fawn boxer puppy. She was purchased by a young couple who's relationship did not work out and now Allie is a victim of the split and has no place to go. She is not yet housetrained. Allie has been spayed, microchipped, dewormed and has had her first puppy shot. She is a very sweet puppy who handled her first insane day in foster care very well. She was brought to her foster home early in the morning, immediately put in the car and taken to a spay/neuter clinic where she spent almost the entire day. She never whined, barked or complained. She would sometimes be a little afraid, not want to move forward and had to be carried but she was fine with that. Then back to her foster home where she rested peacefully after surgery. It was a lot for any dog to handle in one day and Allie took it very well.