BARNEY WAS ADOPTED FEBRUARY 10, 2007!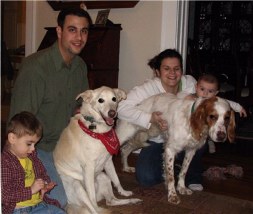 Barney is a purebred English Setter weighing 53 pounds (a few pounds underweight currently) and about 3-4 years old. He had been found abandoned, tied to a tree. The people who saw him thought maybe someone had tethered their dog temporarily but when they went back to check several hours later, Barney was still there, so obviously, intentionally abandoned.
We never understand how people can do that to any dog, regardless of the reason, but in Barney's case, it is even more puzzling because he is such a terrific dog. He is mellow, behaves well in the house, is housetrained and is very submissive towards other dogs. In fact, if another dog comes on to him too strongly, he will simply stand with his nose in the corner of the room! Because Barney is so shy with other dogs, he would do best in a home as an only dog or with an elderly dog that would not be interested in playing with him. He coexists fine with other dogs but will run from them if they show an interest in him. But Barney is not shy around people. He is very friendly. Barney loves attention and could sit next to you for hours receiving pets. Barney behaved beautifully during his bath, even for face washing. But we think he might not have realized he was being bathed because he was totally zoned on the cats in the room. So for this reason, a feline-free home would be the best for him (or best for the kitties...).
Barney has gotten his shots and was heartworm tested. He will be neutered and microchipped on 2/7.