FRITZ WAS ADOPTED APRIL 13, 2007!
forgot to take the camera along so an adoption picture will be sent by Fritz's new family later
Fritz weighs 18 pounds and is about 5 years old. He had been picked up as a stray and after his stray hold was up and he was not claimed, he was slated for euthanasia. We got him out on his last day and he is now safely in a foster home. Fritz was microchipped but his owners never bothered to register his chip so it was not possible to track them down and they never came looking for him. It almost cost Fritz his life. Had the chip been registered, he would have been back home immediately instead of having to spend 10 days in jail. So please, not only microchip your pets, but register the microchip!
Fritz is a very sweet boy who loves to give kisses. He was most anxious to get into the car leaving the shelter. He was very cooperative for his bath. Fritz got along instantly with the other dogs in his foster home and he is not cat aggressive. He was going nose to nose with our dog testing cat and they were liking each other but we feel that he may be inclined to chase if a cat runs. We can't get our dog testing cat to run from dogs to see for sure - she likes them too much. But Fritz seemed very interested in pursuing the cats that were staying back and acting afraid so if he were to live with a cat, a cat that is really comfortable around dogs would be the best.
Fritz has been to the vet where he got his shots, tested negative for heartworm and had full bloodwork done which came back normal. He has had his teeth professionally cleaned. They were extremely dirty, most likely from having been fed table food. In fact, we did notice Fritz was way more interested in people food than dog food but in foster care he has learned to eat his dog food and he likes it. Now his teeth should stay in much better shape.
When Fritz first came into foster care, he was having a very hard time holding urine. It was obvious this was not a matter of not being housetrained so we pursued medical evaluation and found that Fritz's bladder was loaded with stones, a common condition in Dachshunds. He has since recovered from surgery to remove the stones. (Many thanks to those who donated towards the cost of his surgery!) Fritz now urinates normally and we can indeed say he is housetrained. He will need to stay on a special diet and will not be permitted to have anything to eat other than the special diet.
Around 8 pm Fritz puts himself to bed. He sometimes likes to burrow in...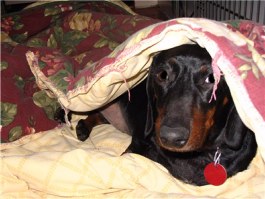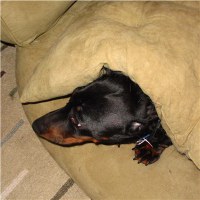 ...the doggie comforter ...under the cushion of the doggie couch
On a warm day, Fritz likes to work on his tan but only if the door stays open. He doesn't want to be locked outside!