WILBUR WAS ADOPTED NOVEMBER 24, 2007!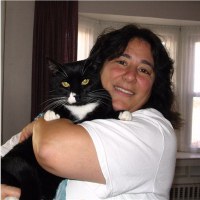 Update: 12/13/07
My son took this with his camera phone. Wilbur and Martina are sooo cute together. She still has her leave me alone moments but Wilbur doesn't give up. She loves him. They are always together now and they are really good with the real tree we got for xmas.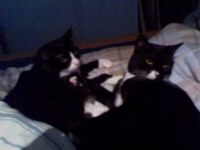 Wilbur's Story:
Wilbur is about 1 year old. He is a very lean and long cat and what a sweetheart! He had followed a woman around a parking lot, meowing at her for attention. She picked Wilbur up and we took him into one of our foster homes.
Wilbur is a very friendly cat. Whenever there are visitors in his foster home, he immediately weaves around ankles begging for attention. He gets along with other cats and after initially being terrified of dogs, he is now OK with them but prefers to avoid direct contact so he gladly stays in his room even though he able to jump the baby gate.
It was somewhat difficult to get good pictures of Wilbur and it took some time. Kinda hard to aim and focus when the cat is rubbing and purring all over the photographer!
Wilbur has been neutered, dewormed, treated with Frontline, tested negative for feline AIDS and leukemia, vaccinated for rabies and distemper, and is microchipped.
Wilbur has become friends with foster kitten
Tabitha
. Wouldn't it be great if they could go to a home together?
(PS - Didn't work out that way but the good news is, they went to separate homes, each with another cat already in in residence, so Tabitha and Wilbur each have a new kitty pal!)