FELIX WAS ADOPTED JULY 21, 2007!
This kitty family has quite a story to tell. Based on fragmented eyewitness accounts and physical evidence, let us pull together a cohesive chain of events for you.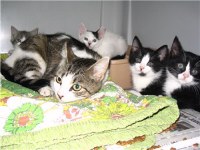 Somebody took a cardboard box and dumped their hamster debris into it. Wood shavings, seed hulls, hamster turds... Then in went Polly and her kittens, the box was closed and duct taped shut. The box was then transported to a shopping center and put into a shopping cart, perhaps abandoned in hopes somebody would find them and take them in? And to that person, we say "SHAME ON YOU!!!!" Did it ever occur to you to have your cat spayed to prevent reproduction? Do you realize you could have taken them practically across the street to the animal shelter instead? OK, we'll get on our soap box another time. On with the story. Polly managed to escape from the box with one of her kittens, the grey and white kitten later named Shea. They were wandering through the parking lot of the shopping center when a concerned person called the police. The police arrived and managed to nab Polly and put her back in the box. Shea, however, scrambled up into the engine of a parked car. Animal control was called. We happened to be in the middle of a television interview at the Union animal shelter so the animal control officer, a volunteer with Companion Critters and the film crew, all jumped into cars and raced to the scene. (If you happen to live in Union and read this in time, the story will be featured on channel 34 at 6:30 pm on Friday, May 18.) We searched and searched and could find no kitten under the hood of the car. Finally, the animal control officer spotted the kitten on top of the spare tire of the SUV, way in the back. He was able to get a hold of the kitten and pass her off to the Companion Critters volunteer. The kitten was reunited with Polly and the rest of the family and whisked away to the animal shelter. To break this tragic cycle of reproduction, the entire family is being spayed and neutered and will be available for adoption.