MAX WAS ADOPTED OCTOBER 5, 2007!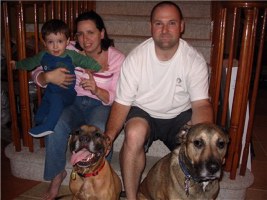 UPDATE: OCTOBER 8, 2007
Thought I would just send you a quick note to see how Max did on his first weekend with his new family!
He is such a joy, and has already made himself QUITE at home...sofa, bed, you name it, he makes himself comfortable! He deserves it, I can't imagine he had too many soft places to rest his head in his previous life. We are endlessly entertained at the speed with which he inhales his food, as well as the resounding belch that inevitably follows.
He had an accident in the house on Saturday morning, but other than that has been fine. He's been quite content to sleep in his cage at night with a doubled comforter as bedding.
We took him to my parents' house on Saturday night, and he quickly made friends with both of them as well as my 95 year old grandmother, who just loved his smiles! I have every confidence that he will prove to be an exceptional family dog. We will likely look into taking him to obedience classes - both of our other dogs went there with good results.
Sadly, the name Max has officially fallen by the wayside........from here forward, he is to be knows as PORTERHOUSE!!!! Hopefully after a few more weeks of eating regularly, he'll grow into the name :)
UPDATE: OCTOBER 30, 2008 - one year later...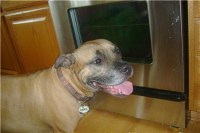 BEFORE/AFTER (Aug 26/Sep 26) PICTURES: (still needs to gain a few pounds, but what a difference!)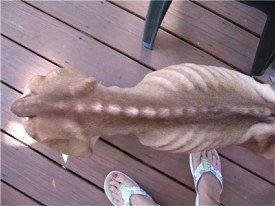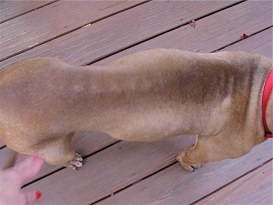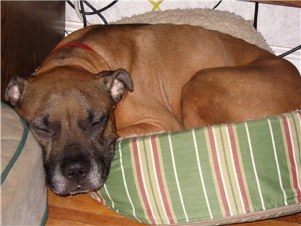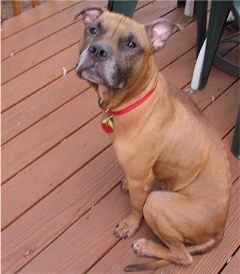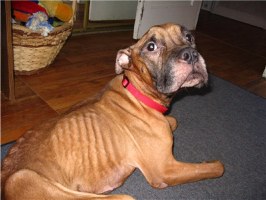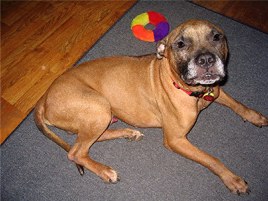 UPDATES:
UPDATE 1:
Max's bloodwork showed an elevated liver value and that he is anemic. This should resolve with proper diet so his blood will be rechecked at his next vet visit. He was heartworm negative and his kidney function looks good. Max is gaining weight beautifully. He is eating a special mixture called Fatten 'Em Up Quick Meatloaf, By Nature Organics dry dog food and Nupro nutritional supplement. Max has been eating six times a day, a total of about 7-8 cups per day which would be four times the amount a dog his size would eat. Here is his weight gain schedule: (We are thinking he should weight around 55 pounds.)
Sunday, August 26: 30 lbs.
Tuesday, August 28: 31.7 lbs.
Saturday, September 1: 36 lbs. (and had to loosen Max's collar because it was starting to get too tight!)
Monday, September 10: 44.5 lbs. (and another collar loosening for a total 4 inch expansion!)
UPDATE 2:
Max went back to the vet on Monday, September 10 for shots and to have his blood rechecked. The anemia and liver issues have completely resolved and according to the vet, "his bloodwork is beautiful". The vet is also very happy with his weight gain. Max's neutering is scheduled for Wednesday, September 26.
UPDATE 3:
Max was neutered and microchipped on September 26. The vet who neutered him commented that he is such a happy dog. Yes, that is our Max, always happy and loving everyone. He holds no grudges and does not believe that his previous awful situation was at the hands of humans. In fact, we have never heard Max bark. When people visit, he just wags his tail furiously with joy. He actually had an often chronic condition called "Happy Tail". That is when dogs wag their tails so violently that they keep breaking the end of the tail open creating blood spatter all over the place. Max almost had to have his tail amputated when he was neutered but fortunately, we were able to get the scab to hold for two weeks and his tail finally healed to where it no longer breaks open so he was able to keep his tail. Just one of the hazards of being such a happy, happy dog. Max is generally pretty much a couch potato who just hangs out all day with his foster mom while she works from home. He does get very excited when visitors come (company is such a GOOD thing) but he does calm down after a few minutes. He loves going for walks in the park but you have to drag him away from people because he wants to meet and greet with everyone he passes and doesn't understand that not everybody wants to meet and greet with him. Max spent a week at a volunteer's home while his foster mom was on vacation. He was great with their older children and all of the kids visiting the home. They said he is the friendliest dog and that he is welcome back at any time. He also got along great with their two male labs even though one of them was a tad bossy with Max . Well, he is bossed around by three females in his foster home so he is pretty used to that. Max has gotten two of the female dogs in his foster home to play with him and these dogs have long outgrown their playfulness. That leads us to believe that Max is simply not a threat to them and just a fun loving type of guy who is irresistible!
MAX'S STORY:
People always comment how horrified they are at the abuse they see on "Animal Cops". We always tell them that unfortunately, those cases of abuse and neglect are not the exception, rather the norm. And indeed, these things happen in our own back yards. On Wednesday, August 22, Linden animal control picked up a boxer mix puppy who had been found in a closed Rubbermaid container, completely emaciated. This puppy's name is Miracle and she is currently with All Star Pet Rescue. People reported that two other dogs had been seen running loose in the area. On Sunday, August 26, Linden animal control caught the other two dogs. All Star Pets contacted Companion Critters and we went to pick the dogs up. These two turned out to be older, the male about 3 years old, so no doubt they are Miracle's mom and dad!
Joy, the mother, is with All Star Pets and Max, the father, is in foster care with Companion Critters. And believe it or not, Max is in even more emaciated than Miracle and we did not think that was possible! Joy was in a little bit better shape weight-wise, but not much. And these dogs obviously got into this condition at the hands of humans. Miracle did not put herself in the Rubbermaid container and close the lid. As much as we hate to say this, thank goodness the entire family was dumped in the streets. Otherwise they would have all been dead in a matter of days from starvation. They are now all safe, will be spayed and neutered when they have gained their weight back and they we will be sure they go to homes where they will be properly cared for for the rest of their lives.
Max is quite the sweet boy. As he was coming out of the animal control van, he was giving everyone kisses and wagging his tail. He gave his foster mom kisses during his bath and seemed to really enjoy having his incredibly filthy ears cleaned. He didn't mind the manicure of his horribly overgrown nails either. He has been nose-to-nose with several cats and did very well with them. He has met the other dogs in his foster home with no problems at all. Max is being fed small meals every couple of hours to get his system used to having food again. Needless to say, his appetite is ravenous and it is all we can do not to overfeed him! But we know better so we will take it slowly and he will put his weight back on soon. We will start pumping him up with supplements. We named him Max because we know that he will fill out to fit the name with proper care.
We must also mention that in the third picture down on the left, Max is not showing teeth in an aggressive way. We discovered that he smiles on command! Yup, just tell him to smile and he lifts his lips into a huge "grin"! What a guy. Even though we were on the verge of tears at his emaciated state, he had us in stitches over his smiling antics!
Max appears to be housetrained. He has had no accidents in his foster home and promptly goes into the yard to do his business every time he is taken outside.
Max won't be ready for adoption, probably until the end of September. We want to put weight on him first so he can get his shots and be neutered. But we will accept applications in the meantime and hold onto them to be reviewed closer to the time Max is ready to be adopted.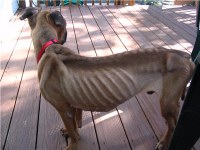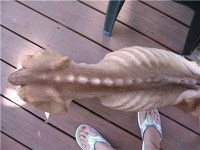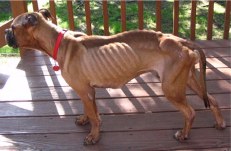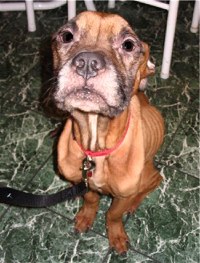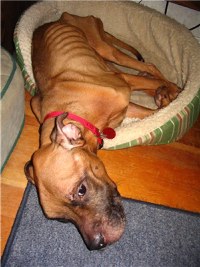 On Saturday, September 1, the entire family was reunited at our adoption event at Pet Valu in Garwood. We weren't sure how they would all react at seeing each other again since they had obviously been very bonded. Max and Joy had roamed the streets together for 5 days and were found by animal control curled up, sleeping together. We felt really bad about having to split them up in separate foster homes, but it seemed that neither pined for the other. Indeed, when they met again a week later at the adoption event, a quick lick on the lips and they went their merry ways. Max seemed more intent on greeting his daughter, Miracle, and licked her on the face relentlessly. To which Miracle responded. "Awww Dad, this is sooooo embarrassing!" The rest of the day, Max did seem much more taken by
Betty
, and the feeling was mutual. We are sure that if they had access to a car, the two would be planning a date! So we are confident that everyone is satisfied with their foster care arrangements in separate rescue groups.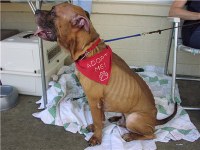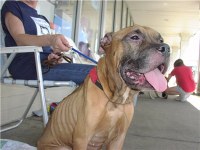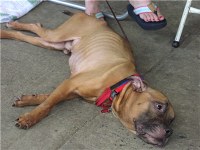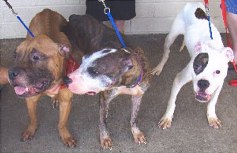 Max. Joy and Miracle