CECIL WAS ADOPTED NOVEMBER 4, 2007!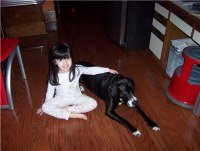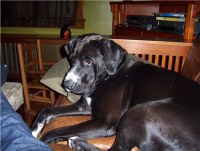 Update November 5, 2007:
Just wanted to drop you a quick note to let you know how Cecil's doing. Our first night was pretty good – as you can see from the picture, he immediately made himself at home on the couch with me J. When we went to bed, it took a while for him to settle down (kept sneaking under the baby gate – we need to lower it….again!), but he finally settled in his bed and stayed there until morning.
When I got out of the shower this morning he was running around with his squeaky deer while Olivia chased him – I'm not sure who was having more fun! Overall he's been a very good boy and we're loving having him in our home (even the cats are tolerating him!).
Cecil's Story:
Hi! My name is Cecil. I am about 3 years old, weigh about 65 pounds, and I am a very good dog. I know this because I have had two foster moms and they both say so. Let me explain...
I lived with a family for three years and one day they decided they just didn't want me any more and took me to the shelter. Don't understand why because I don't do bad things. I'm a mellow kind of guy, pretty much a couch potato, although I will fling a toy or two around on occasion. As you can see in the attached video, I can sometimes have a really good time with the dog toys :-). (Sorry about the mess, foster mommy but I was having sooooo much fun.) And pick up my leash and I'll do the "Going for a Walk Happy Dance." I love walks and I'm pretty good in a leash. So, as I understand it, my execution day came and a lady from a rescue group took me just in time. I stayed with her for 3 weeks. She is friends with a lady from another rescue group and that lady had met me a few times and took a liking to me. Thought I would fit into her household perfectly. So to lighten the load for my first foster mom, who had saved a few more dogs "just in time" I went to stay at a foster home with Companion Critters. And yes, I did fit in beautifully. My new foster mom works from home and I don't bother her at all while she is working. I just hang out with her and the other dogs. I really like other dogs who just want to hang out. Not much into the young, wild and crazy types. There are some cats here, too, and you know what? I could really care less about them. They hiss at me because they don't know me yet but they will get over it because I don't bother them. There is a little baby kitten in a cage and I may give a little sniff her way but I basically ignore her. (Like right now she is hollering her fool head off wanting to bust out of her cage and I am on the floor right by her sound asleep.) Anyway, I missed my first foster mom terribly when she first dropped me off and I paced and whined for a bit. But I bonded with my new foster mom really quickly so that means I will bond quickly with my new permanent family, too. But I hope that my next family be my last family forever.