TABITHA WAS ADOPTED NOVEMBER 17, 2007!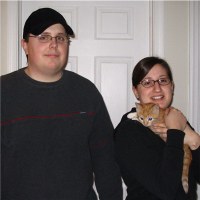 UPDATE November 27, 2007
Tabitha and Lucy are doing good. As each day goes by, they warm up to each other more and more. They have been playing with each other and have even began laying with each other lately. Lucy has become somewhat of a mother figure. Tabitha is actually getting big (in just one week!). I was worried for a while but beginning this week they have become real buddies.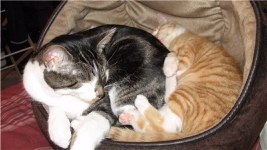 Tabitha's Story:
Tabitha's foster mom happened to be at a shelter looking at a dog at the exact moment animal control brought Tabitha in. She had been stuck up in a car engine. The car had to be jacked up so the animal control officer could get her out and she was wedged in tightly. She was also covered with black engine grime. Problem is, had Tabitha gone into the shelter, she would have become very sick since upper respiratory infections are running rampant in that shelter right now. So we didn't even let them take her into the building. Tabitha went straight to her foster mom's car. She is on stray hold through Saturday, October 27 but won't be available for adoption anyway until after she is spayed on November 3. At that time she will be 8 weeks old, exactly old enough to be spayed and to go on to a new home. She will also be microchipped, FIV/FeLV tested, get her second deworming and her first distemper shot. We will accept applications in the meantime.
Although Tabitha was very traumatized by her automotive ordeal, she was actually very good for her bath, which was great because we were able to scrub her down thoroughly until the water no longer ran black off of her. She now smells and looks wonderful! She was also loaded with fleas, which have now been eradicated with Advantage Flea Control. Tabitha must realize that since she survived that bath, all must be well. Ever since she purrs and rubs her head on her foster mom's hands every time her cage is opened. She uses her litter box and has a great appetite.
Tabitha and foster cat
Wilbur
have become great buddies. Tabitha looks up to Wilbur like he is her big brother.