BENJI WAS ADOPTED NOVEMBER 6, 2007!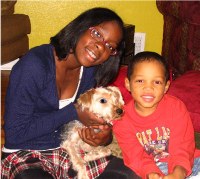 We'll get some more pictures and perhaps a video up soon but kind of in a hurry at the moment... Benji's foster mom was in the middle of finalizing registration for 60 pets to be spayed and neutered at a clinic she volunteers with when a shelter called to ask if she could take Benji to place as his stray hold was up and they hated to see him sit in the shelter. So she dropped everything and ran to the shelter to get Benji. And managed to make some last minute phone calls to get him squeezed into the clinic the following day to be neutered, get his shots, be heartworm tested and microchipped :-).
Benji is a delightfully sweet guy. He absolutely loves everyone. He weighs 12 pounds but is underweight so he should weigh closer to 15 pounds. You need to sit with him while he eats or he won't eat and he chews one piece of kibble at a time but he gets his ration down. It just takes some time. He is 10 - 12 months old and full of playful spunk. He loves toys and golly, those annoying sweet gum balls that fall off the neighbor's tree into the yard are just sooooo much fun! (Benji has managed to bypass his foster mom's close scrutiny to smuggle a contraband sweet gum ball into the house!) He gets along great with other dogs and took well to 4 big dogs converging on him all at once to check him out. He is somewhat barky with cats although he has gone nose-to-nose with them and backed away when they hiss. He has not been off leash around cats yet but we feel he very well may be a cat chaser although he shows no aggression towards them. He also likes to bark at himself in mirrored closet doors. He'll figure out pretty soon that it is not a Benji imposter he is seeing. Benji was great during his bath. He shook, of course, as most dogs do when that yucky clean water hits them, but he cooperated fully. When he was completely wet, we noticed his head is the shape of a fox terrier or Jack Russell terrier so he most likely is mixed with one of those breeds, but definitely the coat and coloring of a yorkie. We are hopeful that he is housetrained - so far so good! He has been doing his business when let out in the yard and not in the house. But it is very early on so we will update later after he has established a few days worth of track record.