BUSTER WAS ADOPTED NOVEMBER 21, 2007!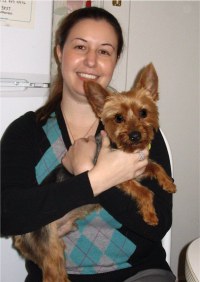 Update - November 25, 2007
Buster is doing great!! He is comfortable in the house (although he spent the 1st 2 days sniffing every single corner). He has been chewing on nyla bones and is starting to show interest in other toys. He lets us hold him for longer amounts of time and sleeps the whole night curled up in a ball on my bed. I can tell he is relaxing more every day and showing more of a playful personality. He has had no accidents and he barks and goes to the back door when he needs to go out. He is very smart and must have known some commands from his former home. Overall, things are good and we are very happy. Thanks so much for bringing us together!
Buster's Story:
Buster had been found running the streets and was taken in by a family. They had been calling local police departments daily and nobody reported their yorkie missing. The adults in the family work all day and had been leaving Buster loose in the house with the neighbors coming over to walk him periodically. Buster had no accidents and had been trustworthy with run of the house with that arrangement but he cannot hold it for 8 hours straight during the day. He is currently in one of our foster homes where he has the opportunity to go out frequently and has no accidents.
Buster is a very nice, well-behaved dog who loves to go for walks. He rides very well in the car. He has been a gentleman around cats and has no problems at all with dogs much larger than he is. Buster is, however, not comfortable around children and becomes stressed when they try to interact with him. He prefers to be in the company of adults.
Buster weighs about 9 pounds and is around 5 years old. He has been to the vet to have his teeth cleaned and as is typical with yorkies, his teeth were in horrible condition. The vet was not able to get all of the tartar off of his teeth so he will need to have his teeth cleaned again in 6 months, preferably by a veterinary dentist who would be able to restore his pearly whites. Buster's top teeth were in amazingly good shape but all of his botton incisors were rotten and needed to be pulled. Buster has been professionally groomed compliments of Reigning Cats and Dogs Salon in Westfield, NJ . He will require regular professional grooming.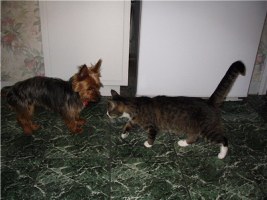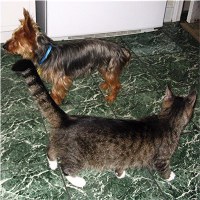 Buster wouldn't go anywhere near the pink, girly fru fru bed for the first couple of days. But he finally found it too irresistable and comfy so it is now his bed of choice.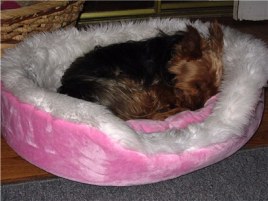 And because it was obvious to the other dogs that Buster was so comfy in that bed, one of them (a 53 pound dog) could not resist trying it out herself:
She has however, decided her comfort level did not equal that of Buster so she let him have his bed back.