MITZI WAS ADOPTED DECEMBER 8, 2007!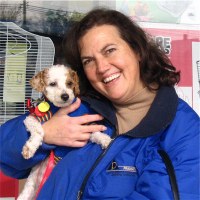 Update January 19, 2008
It's been a little over a month since Mitzi became a member of our family and I just wanted to send another update. First let me just say, What a little Love!! I can't believe how lucky we were to find her post on Petfinder. She steals the heart of everyone she meets! And, despite the neglect she experienced in her former life, she is such a confident little girl. She has our other dog, Dodger completely wrapped around her little paw.
We have decided to name her "Chloe" and Chloe or Chloe Bear as she is often called has become the subject of many amateur songs. LOL What can I say she brings music to our lives.
This little girl has many talents. There's Chloe Bear who loves to hug and kiss and snuggle and Chloe Beast who loves to run and jump and wrestle. I love the snuggle bear and Dodger loves the beast! Dodger and Chloe have great fun playing together,racing around the back yard. Her agility and energy level make her the perfect playmate for Dodger. And despite her being half his size, it's Chloe who's usually on top during the wrestling matches. I'm attaching a couple of pics here but, unfortunately I don't have any good ones of Chloe and Dodger Playing together. Hmmm, for some reason they always come out blurry??!!!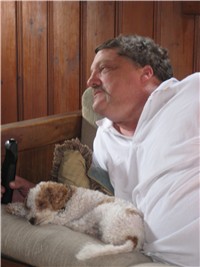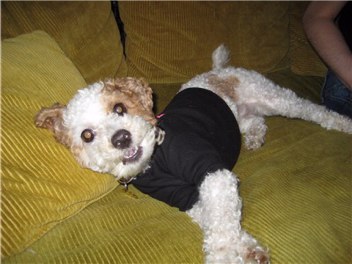 Update December 9, 2007
I just wanted to send a note to say Thanks again for rescuing Mitzi and to let you know that she is doing great! After a quiet ride home,(she was great in her crate)she spent the day just being a little cuddle bug.
More of the same today with just going out on short walks to do her business and taking it easy. But, by tonight she made it clear she was ready to play. She was trying to engage Dodger in a wrestling match. She was the cutest thing going down on her front paws with her little butt up in the air. But, we're trying to get her to continue to take it easy for a couple more days since she was just spayed on Wednesday.
Dodger is being a very good boy and I can tell they are going to be the best of pals. My daughter absolutely adores her and she adores my daughter as well. We all love her and couldn't be happier.
I'm enclosing a couple of pics and I'll send you another update in a couple of weeks or so. Until then, Thanks again for Mitzi and Thanks for all the wonderful work you and the other rescue folks at Companion Critters do!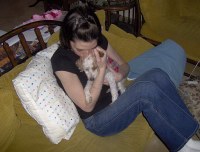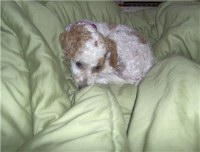 Mitzi's Story
Somebody rang a doorbell and took off. When the residents answered the door, they found Mitzi tied in the front yard. She was in extremely matted condition so we did not even pause to take a before picture. We headed straight for the clippers. We peeled off one inch thick layers of rock solid matted hair. Mitzi looked like a new dog (and fraction of the size) when we were done. In her picture, you can see the hair that came off next to her. We did not by any means do a great grooming job on her. She will be touched up professionally later. But she feels so much better now, wags her tail happily and gives kisses. Please be prepared to incur grooming expenses when you take on a high maintenance breed like this. They require professional grooming every 6-8 weeks. It is cruel to let dogs get into the matted condition Mitzi was in and we see this happening far too often.
Mitzi is about 8-10 months old and weighs around 9 pounds. She is a very sweet little dog but is also very sensitive, so no small children, please. She jumps at fast movements and loud noises so the activity of a home with young children would not be an appropriate situation for her. Mitzi loves to be carried around, held on a lap and is quick to snuggle up for a nap. She absolutely adores the adult son in her foster home and will hang out in his room with him when he is at home. Mitzi likes other dogs and cats. Mitzi needs some reinforcement on her houstraining. She understands the concept and will look to you for approval when doing her business outside. But she will have accidents if allowed to wander to remote areas of the house unsupervised. She does not soil her crate.
Mitzi came to us in heat but she is being spayed on Wednesday, December 5 so that will be the end of that heat stuff and she will be ready to go to a new home. Mitzi has been dewormed and vaccinated for rabies, distemper and bordatella. She will be microchipped when she is spayed.
Mitzi with all of the severely matted hair that was stripped off of her: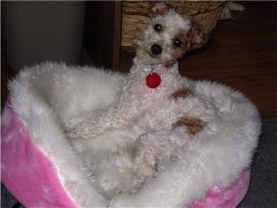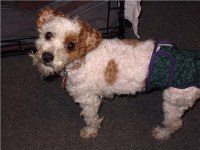 Mitzi with her "bitch's britches" - the last time she will ever have to wear those because she will be spayed!