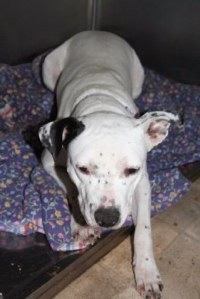 Raisin - RESCUED! Thank you Summit Animal League!
Pit Bull Terrier Mix
Female
1 1/2 years old
From what we were told the night of the raid, Raisin had NEVER BEEN OUTSIDE! She was kept in a crate in the kitchen. Always.
January 12, 2008 Update From The Kennel:
She does get along with my dog (who is my 'dog tester' – very stable - 70 lb chow/choc lab mix male neutered). She is very submissive and LOVED him. Wanted to marry him. Have not tested her with small dogs or females but my guess would be no problem as she is housed in the same room with several and no reaction through the bars anyway.
She is to the point where I would call her crate trained – has not soiled her crate for over a week now. She loves toys, knows how to fetch (and actually brings it back to you). She ignores the cats who are in the crates, though I have not had her around one that is loose she can clearly see the cats through the bars – could care less about them. She is extremely social with people, a big plus. No food aggression. No aggression at all that I've seen in fact I've only seen submission here.
Her only fault is that she's afraid of outside. Not of the yard which she is familiar with and goes out in daily by herself now, but walking on a leash outside in places she does not know. Too big out there, too many things might jump out at her. But with coaxing she will make about a half-mile loop down the street. A car going by is downright terrifying but she's getting used to it slowly. Poor thing's been cooped up a long time. She went to adoption day at Petsmart and was extremely well behaved (again, except for outside on a leash where she was hunker-down scared especially because the parking lot was right there with a lot of cars). Tried to hide in a tipped over shopping cart.
So, if any of you know of a place for her I would appreciate her leaving here to go to rescue. She is a nice dog. Excellent foster candidate. She would love to be placed with another dog to show her the ropes, since when she met my dog she suddenly seemed much more relaxed.