BUTCH AND CASSIDY WERE ADOPTED DECEMBER 17, 2007!
UPDATE January 24, 2008
I couldn't possibly love these two any more than I do. They are WONDERFUL. Lively, beautiful and so so loving, you were right on the mark!
They are so friendly that not just the young one I already had, Chelsea, but also one of the elderly guys (Blackie is 17 years old!) are now acclimated and are playing with "Butch" (now Panther) and "Cassidy" (now Tuxie). I swear it's nothing less than a miracle that my 17 year old PLAYS with them! WOW! I've attached a pic of them - not a great pic but I just love them all sprawled out. Yes they totally spread out, it is HILARIOUS. Both of them look like black snakes coiled around each other. They have long lean bodies anyway and they both love to STRETCH like that. They are both into toys and Tuxie actually fetches sometimes.
Also they gallop through the rooms. I have big rooms and not a lot of furniture (I don't like clutter) and hardwood floors so you can actually **hear** them gallop! In fact, I thought even if Tuxie somehow got sick when he had not been eating well (I worry **a lot**) at least I know he had 5 weeks of galloping! But I want that to be at least 15 ***years**** of fun and galloping!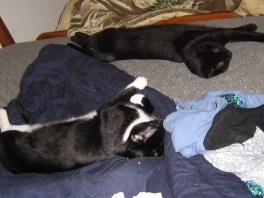 Butch and Cassidy had spent the week in a foster home with the rest of the shelter cats while the shelter was closed for resealing of the floors. After 7 months in the shelter, their new mom came along and adopted them the night before they were to return to the shelter. We are thrilled that they never had to go back to the shelter and now have plenty of room to run and play.
Butch and Cassidy came to the shelter over the summer when they were just little kittens. At the time, they had ringworm so they were never adopted. Now, SEVEN MONTHS later, the ringworm is long gone but Butch and Cassidy remain in the shelter together in a tiny cage. A much larger kitty condo with shelves has been donated to give them more space but the boys would really love to go to a home and going together would be really nice. As you can see in the picture, they love each other! Butch and Cassidy are now about 9 months old. They have been neutered, have rabies and distemper shots, have been dewormed, microchipped and treated with flea preventative.