LUCY WAS ADOPTED MAY 17, 2008!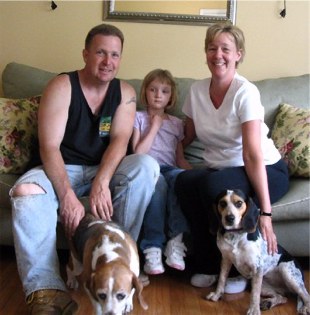 UPDATE: May 27, 2008
Well Lucy has been with us a full week and she is doing pretty well. On the up side no accidents in the house, walking well on the leash, and getting along with the family and the neighborhood! She does like to dig in the yard and chew some of Jenna's toys, but in time she will learn (I hope!). Had her first bath yesterday after playing with a friends dog, she had slobber all over her head! She did well, wasn't thrilled but dealt with it. She is very cute and has a funny personality.
LUCY'S STORY:
Lucy was turned in at the shelter when she was found running loose on Morris Avenue in Union. Nobody ever came looking for her. She is now in a foster home.
Lucy is a very sweet, happy and friendly dog. She is about 1 year old and weighs 30 pounds. Lucy gets along great with other dogs and loves to play. She likes cats but likes the cat food even more so going to a home with kitties would involve keeping the cat food out of her reach.
Lucy is crate trained. Although she will often go into her crate on her own to nap, getting her to go in on command involves throwing a cookie in first. She is quiet while in her crate and sleeps through the night in her crate. In fact, she rarely barks or makes any noise. Where Lucy used to leap in the air for her meals and treats, after being told only twice, she learned that sitting for meals and treats is appropriate behavior. She is now the first dog to have her bottom on the floor at meal and treat time. Lucy takes treats gently and has shown no food or possession issues around other dogs or humans. She is particularly drawn to children at our adoption events and she has been very good around children.
Lucy has been spayed, microchipped, dewormed, heartworm tested and on preventative and is vaccinated for rabies and distemper.